👩‍💼【After-Sale Service】 Enjoy peace of mind with our

12-Month

Warranty & 24/7 customer service. We offer a 30-Day Return & Replace Policy to prioritize your satisfaction! 😊
🔌【Unleash Cordless Freedom】Break free from cords! Our glue gun goes wireless with a standard MICRO USB cable, offering portable operation and unmatched convenience.
🔥【Swift Heating Action】Experience rapid preheating in just 3 MINUTES with advanced PTC heating tech. It reaches up to 400°F, maintaining the perfect temperature for efficient tasks.
🛡️【Safety Meets Efficiency】Your safety is our priority. The ON/OFF switch, LED indicator, and heat-resistant silicone nozzle enhance user security. The rubber-covered handle and detachable support ensure comfortable and effective use.
🌟【Premium Glue Stick】Included are 10 eco-friendly glue sticks (0.28''x4'') with potent adhesion. The 2-finger trigger system regulates glue flow, minimizing waste and maximizing productivity.
🎨【Versatile Crafting】From DIY to office use, this cordless glue gun shines. Ideal for Craft, Arts, Quick Repairs, and Festival/Gift Decorations. We prioritize customers and product quality, offering hassle-free replacements for any issues.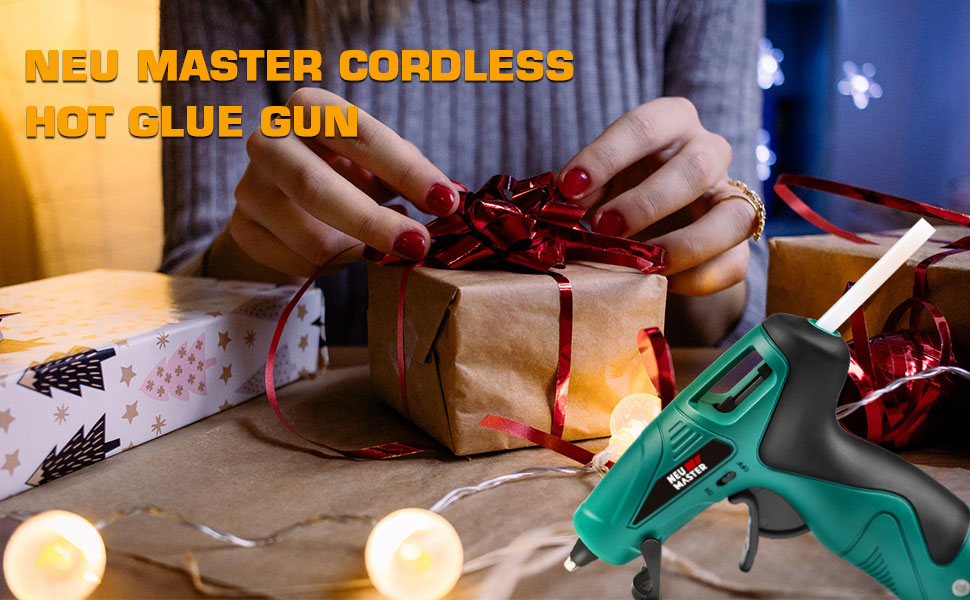 Tips:
A fully charged battery would allow approximately 45 mins of normal usage.
Allow 3 to 5 mins. to melt the glue stick or reside near the time before triggering. Continue holding down the trigger without glue flow can damage the tool.
Battery should be charged fully after each use to pro long the battery life.
It is not safe to use the glue gun while charging. 

Wireless and less hassle glue gun
I got it since it is wireless and wanted to try it out to use on diy I do as well as decorating. So it came in handy as I didn't have to use a extension cord to keep it on like the traditional glue guns. It worked out great putting some fall decor on my windows and front door. It made it much better plus it can stand up on it's own as I showed in the picture. Only thing I didn't like was the battery didn't last as long as I hoped plus to get a fully charged it took about 2 hrs. Still even with that, I am glad I got this wireless glue gun as I know it will be used for multiple purposes especially when the Christmas comes around.
Worked as Needes
Purchased for the ease of not having to deal with cords. The only issue was that I had to insert 2 glue sticks in order for the glue to push through.
Love my cordless glue gun
Absolutely love this cordless glue gun. It takes a small amount of time to heat up, but it does a great job. Would purchase from this company again.
This is the Glue Gun for Crafters with Arthritis!
I Absolutely Love the Ease of Use, it's Cordless, and it's Super Light! These items were Very Important to Me since I have Arthritis in both Hands and Throughout My Body! It Heats Up Quickly, but while it's on it drips A Lot of Glue!!! This makes it Messy to use, don't know what's the Fix??
Worked until it didn't.
It worked well at first, but then started to die quickly and then the trigger function went out and then would not even charge.