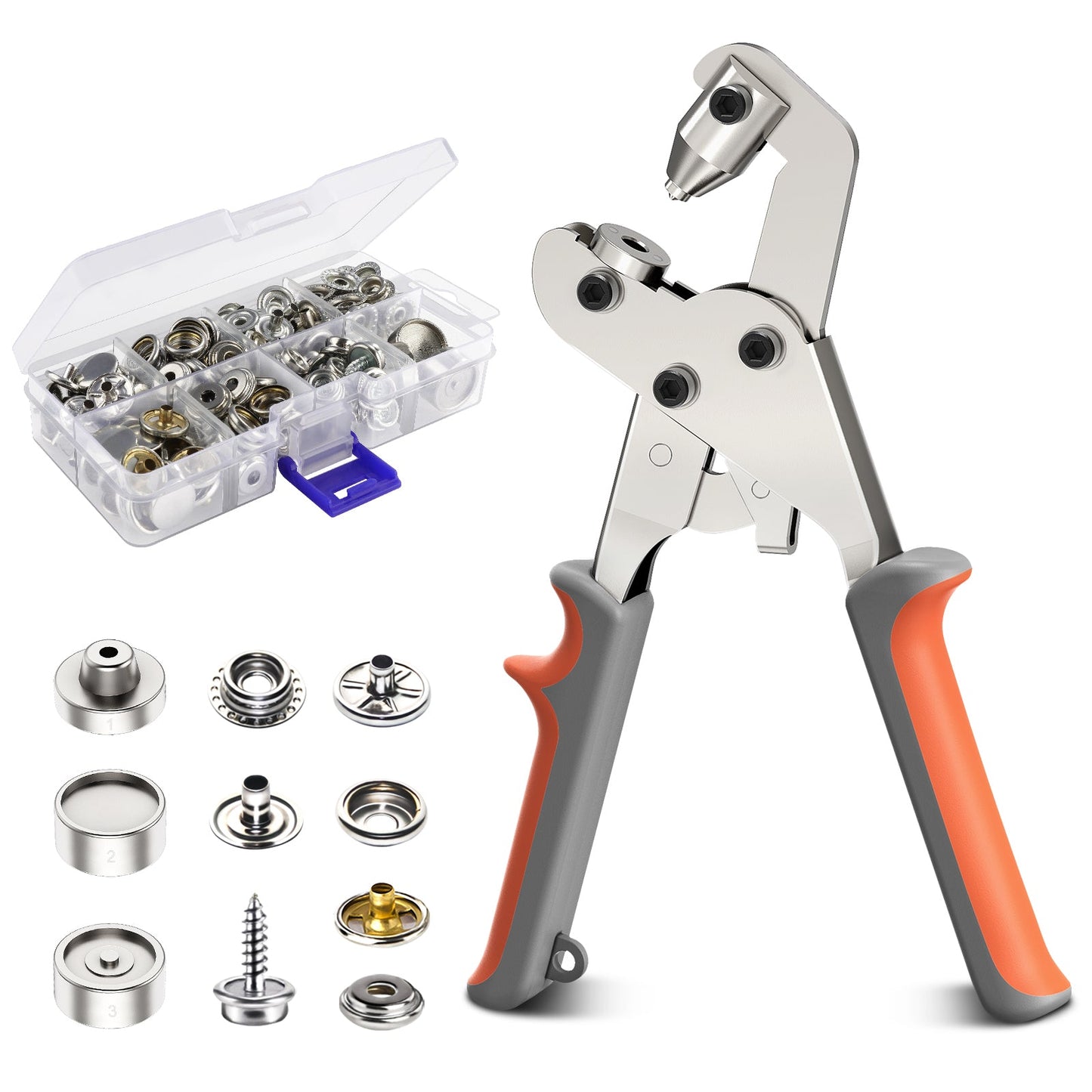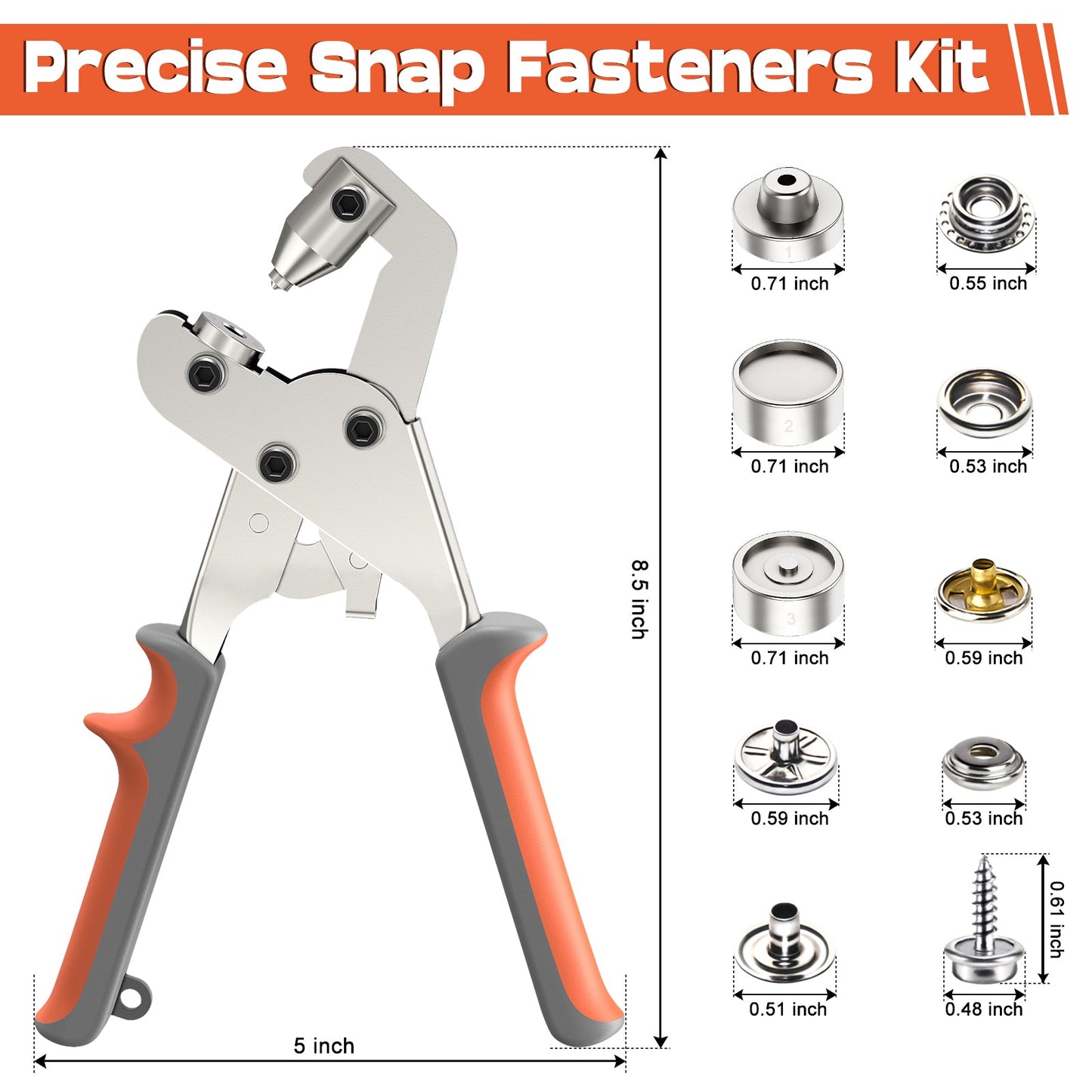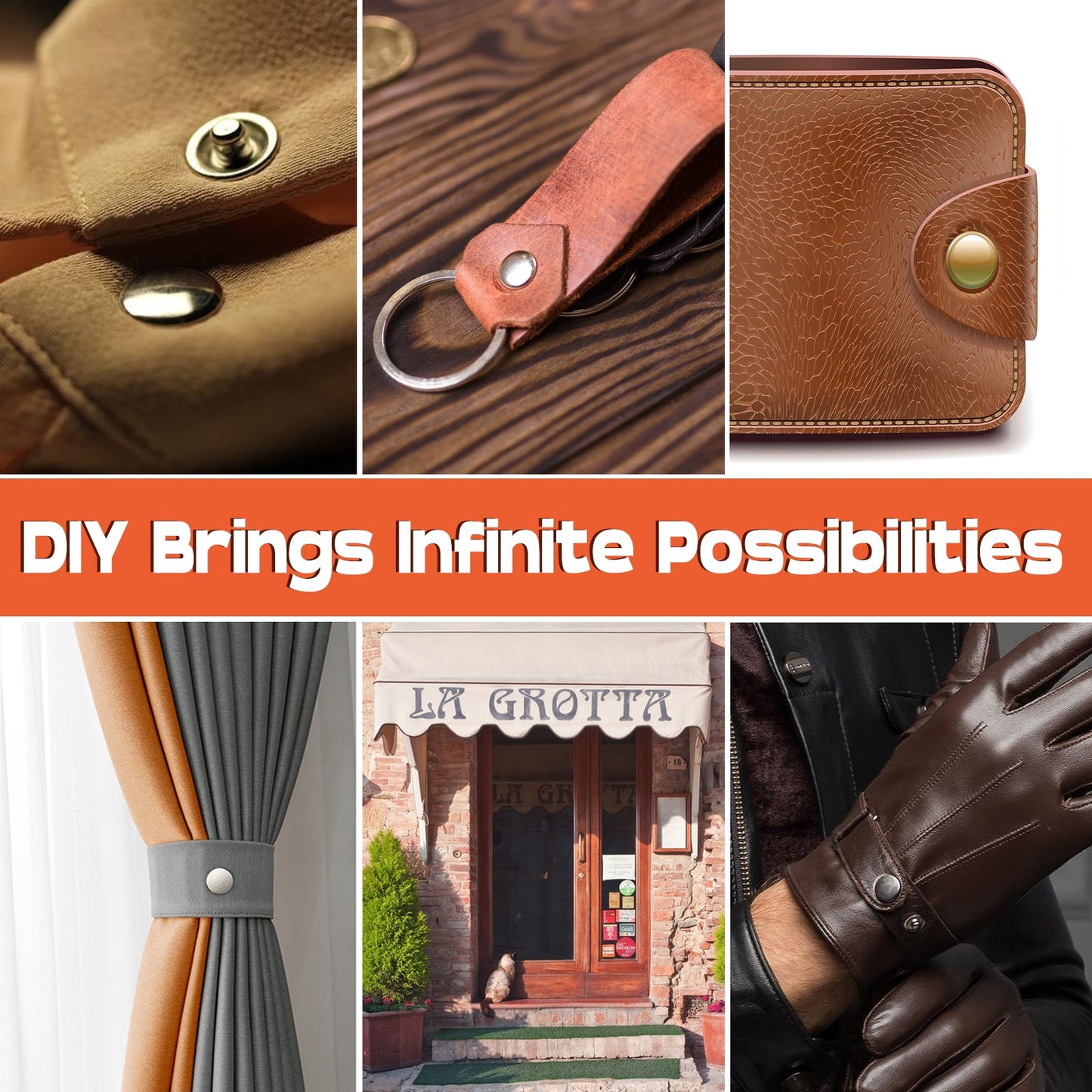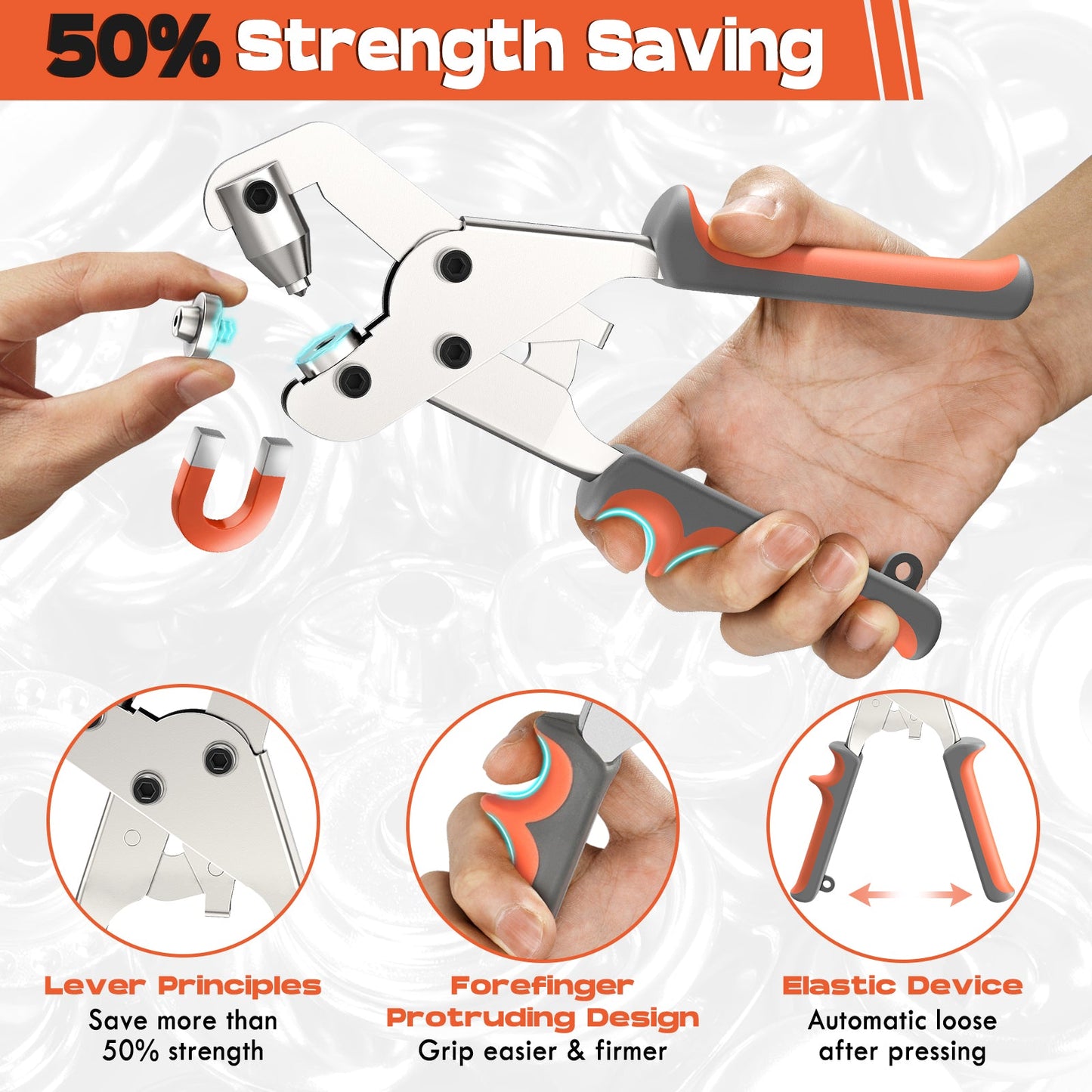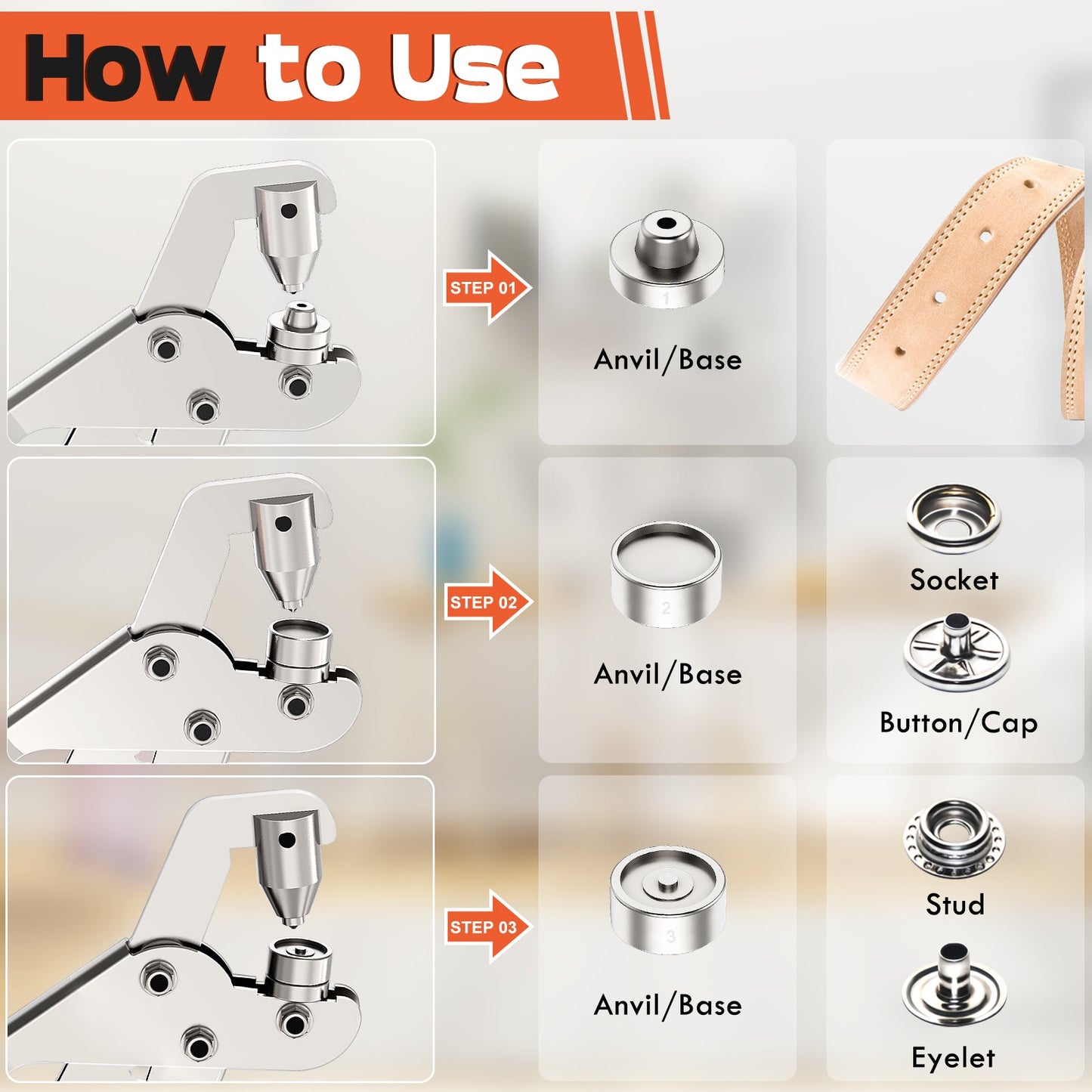 👍【100% SATISFACTION GUARANTEE】 Unconditional quick Full Refund or Instant Replacement service within 1-Year with lifetime free customer service.
✅【NEWEST UPGRADED SNAP BUTTON KIT】NEU MASTER Snap fastener tool is the GAME-CHANGER. With its ergonomic handle, magnetic bases and double lever innovative design, makes the snap fastener process easier, safer, and more efficient than ever before. Get you out of the hassle of punch work. One snap button kit will do it all. Time and Money Saver!
✅【SAFER, FASTER AND EFFORTLESS】A MUST HAVE for snaps and fasteners installation. Our snap button tool adopts double leverage to increase the torque, saves more than 50% strength. Just line up the snaps with the anvil and squeeze the handle. Powerful penetrability makes the work easier and 5x fast, comfortable and reliable.
✅【MORE EASER AND COMPREHENSIVE】OUT-OF-THE-BOX! Say goodbye to those banging mounting punches. NEU MASTER heavy duty snaps fastener kit has everything you need to add fasteners or repair snap buttons. Just line up the buttons and squeeze it to finish a snap fastener. This starter kit very Handy and Easy to Use! No need to hire professional help.
✅【GREAT VALUE SNAP FASTENERS KIT】Including 1* snap fastener tool, 40 sets * metal fasteners (20 sets * screw models, 20 sets * normal models), a transparent plastic box to keep all the snaps organized. The snap buttons are not easy to corrode,the quantity enough for you to attach or repair snaps, DIY crafts. Work Well in various environments for a long time. NOTE:The post of the cap is ONLY 4mm deep. So the fastener NOT fit for thick leather.
✅【WIDE APPLICATIONS】Indoor or outdoor use. The button snap kit comes with buttons and screw studs are available for clamping onto screws or canvas studs for mounting on hard surfaces. Our snaps fastener pliers tool kit makes a repair easy! Perfect for replacing and repairing boat cover, canvas, tarpaulin, tents, awnings, clothing, leather, furniture, fabric, DIY crafts.