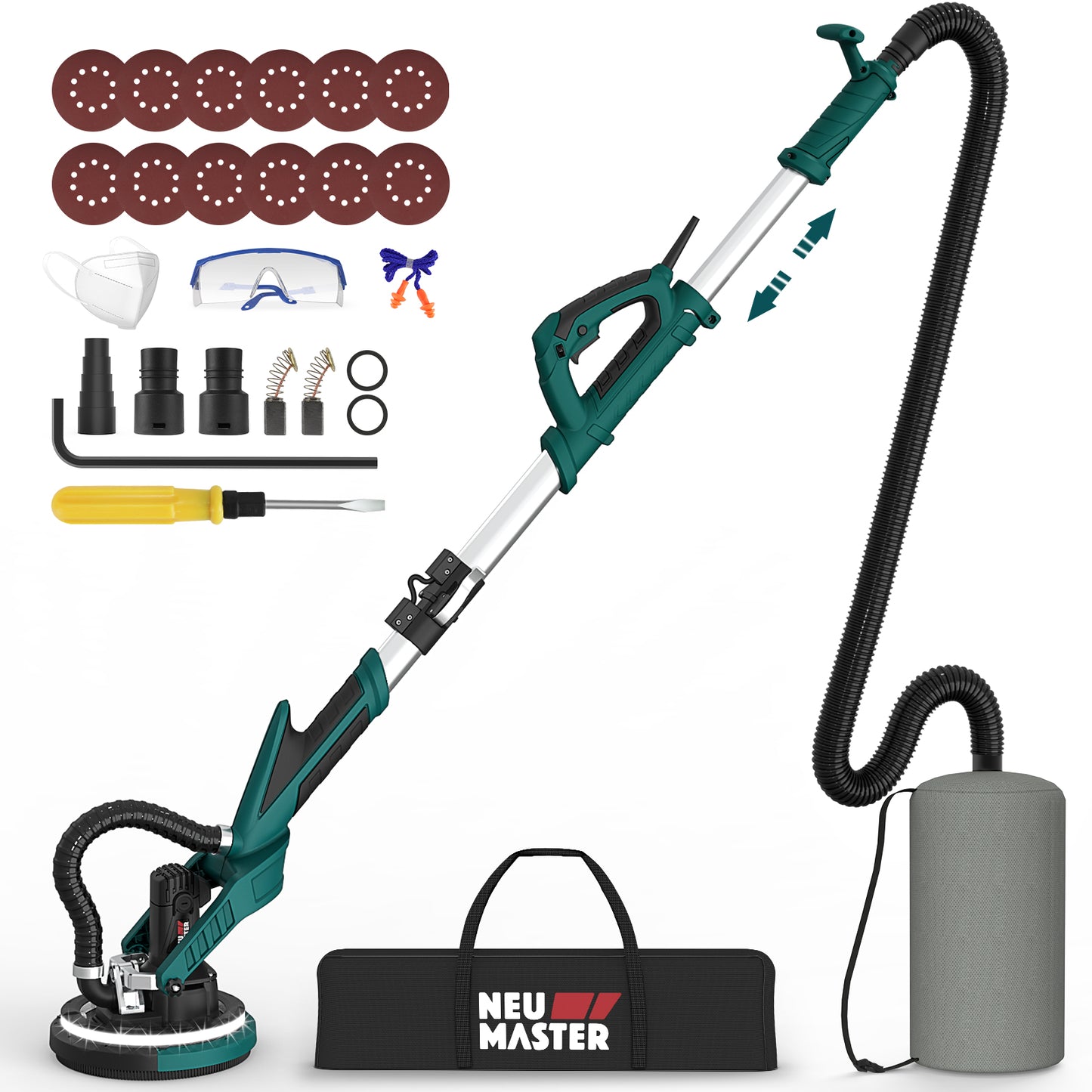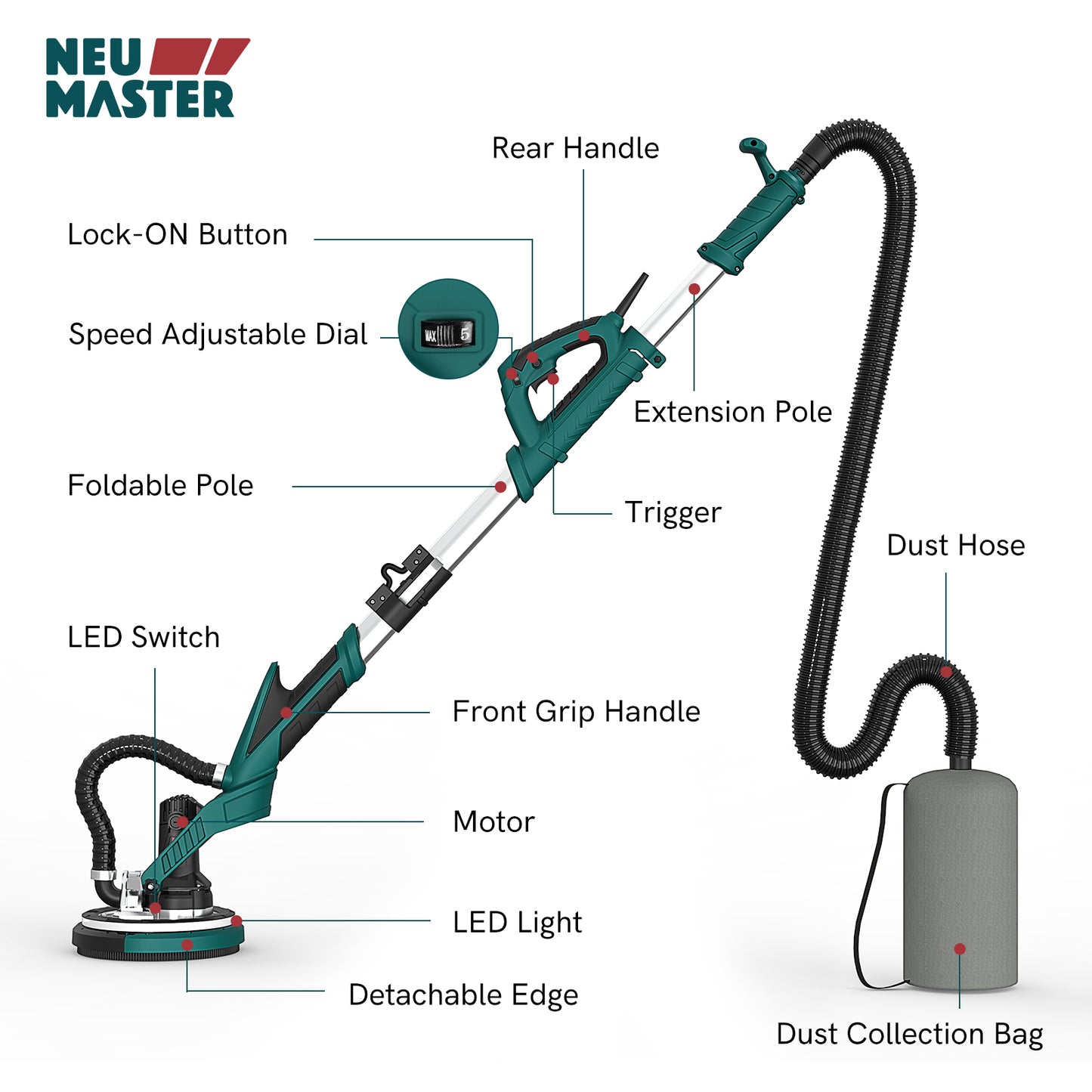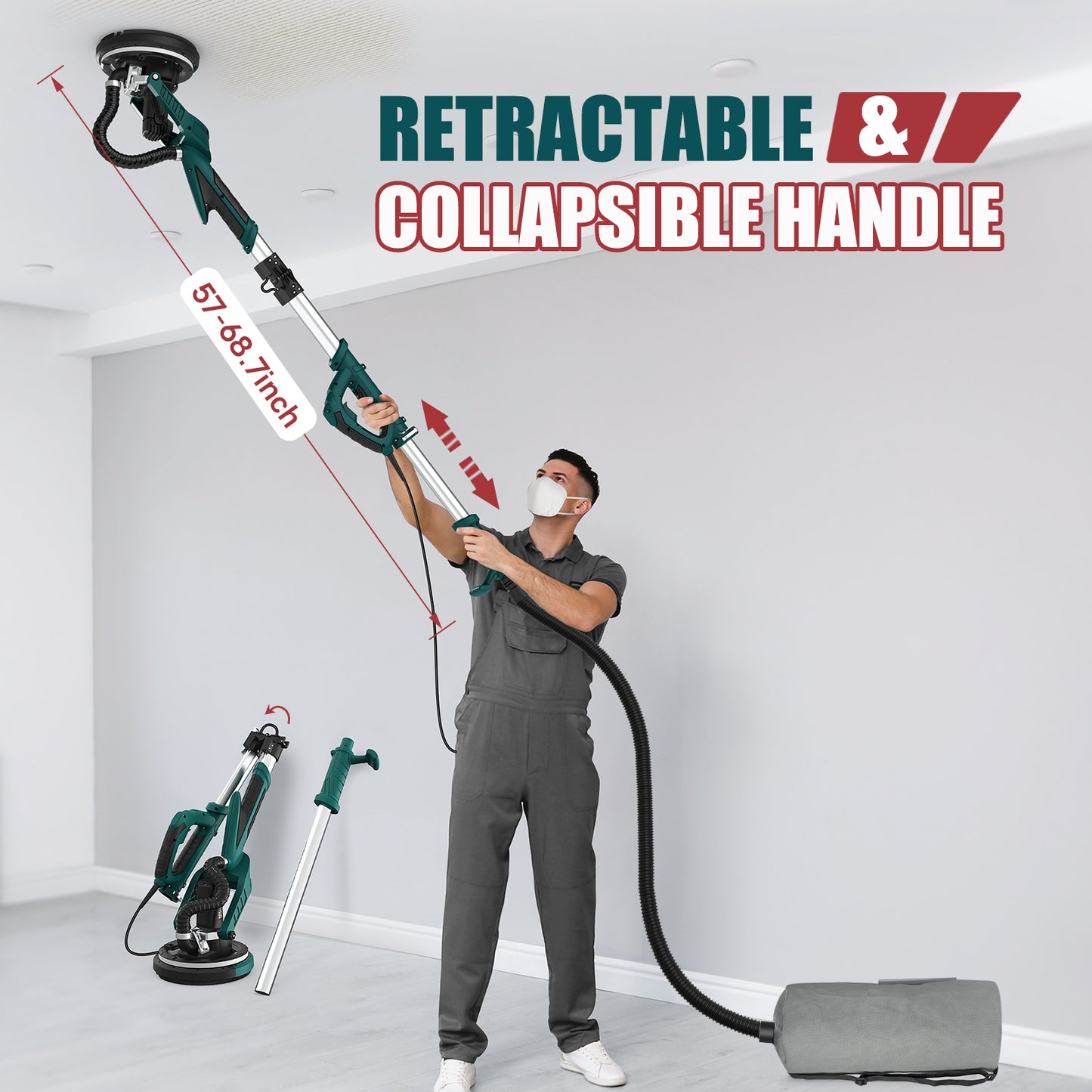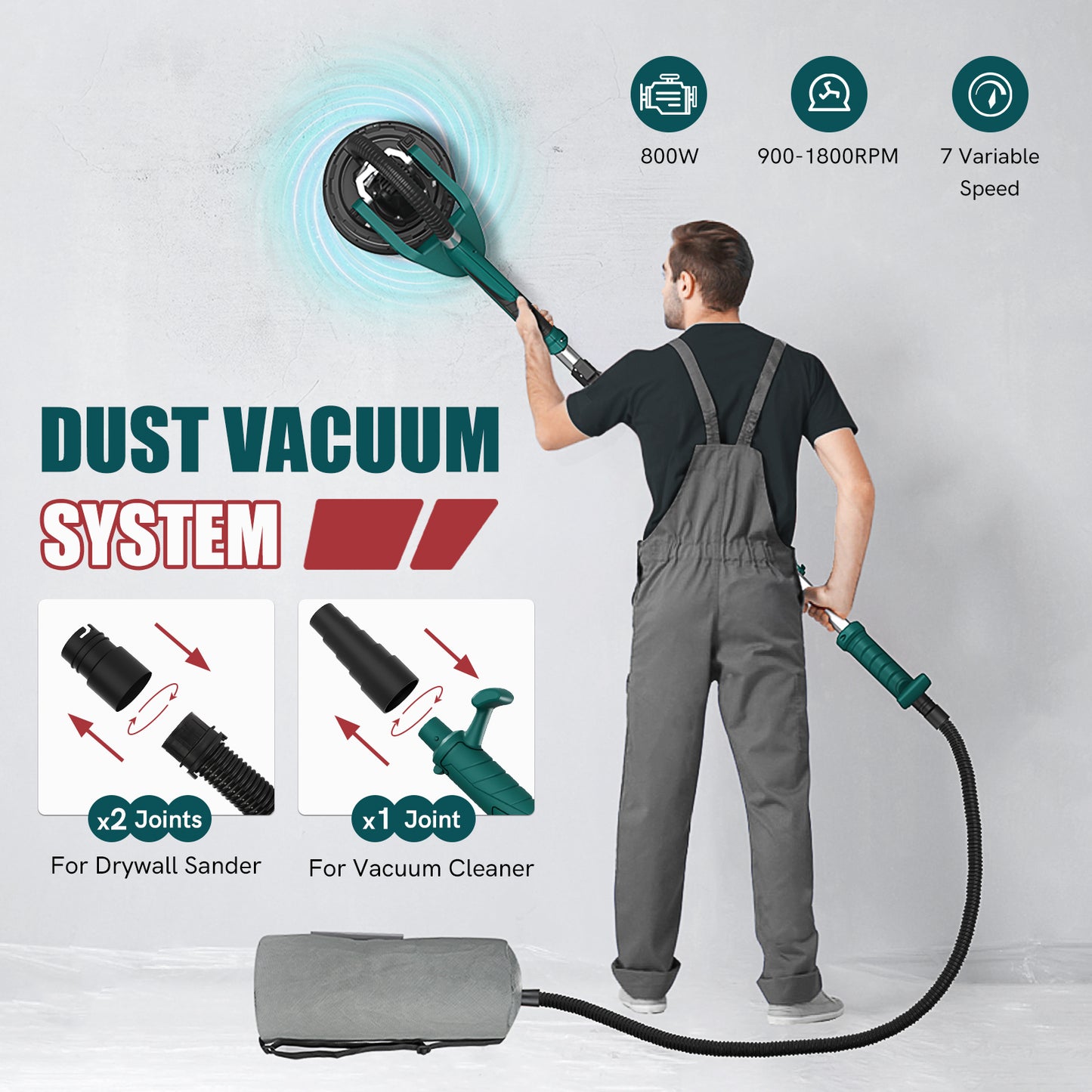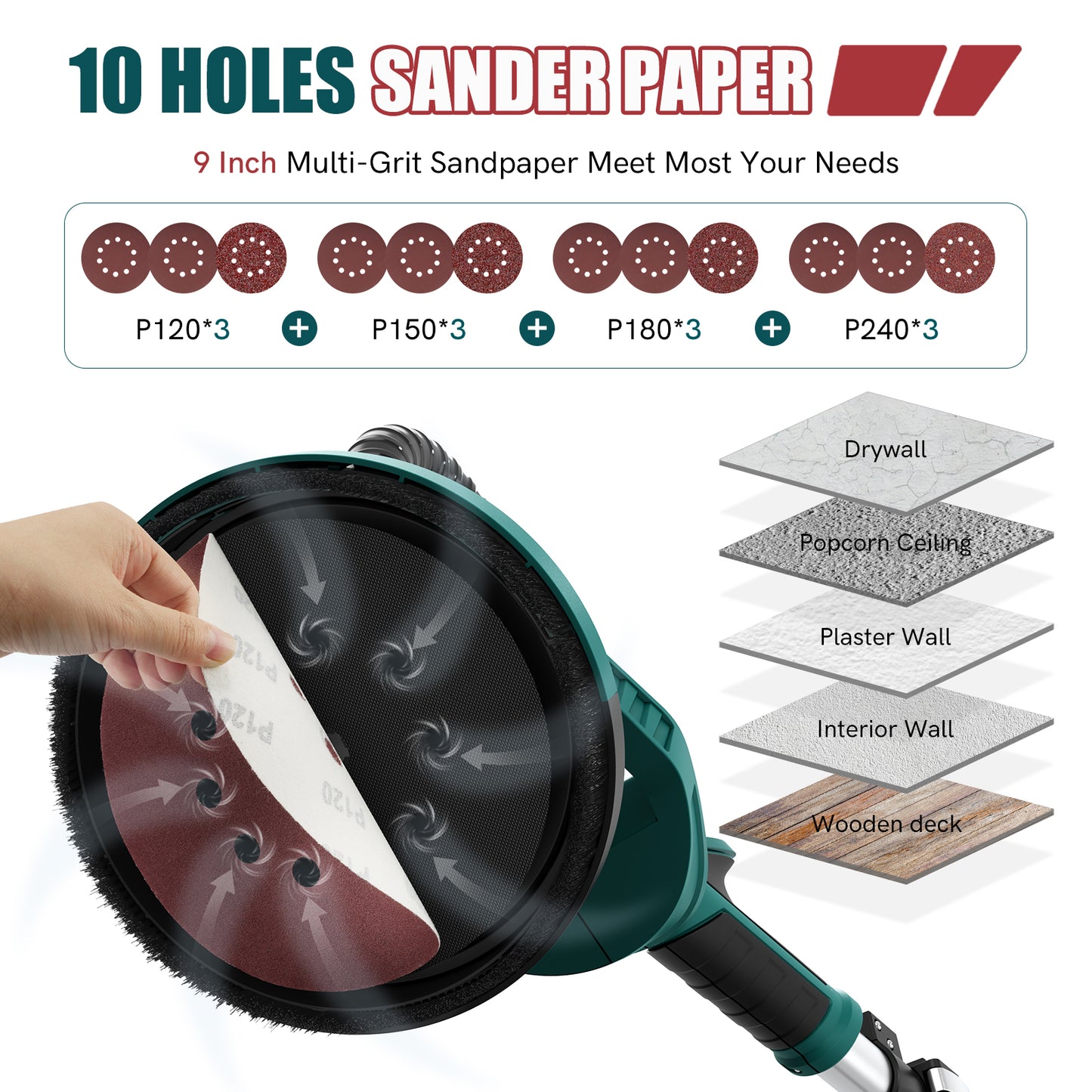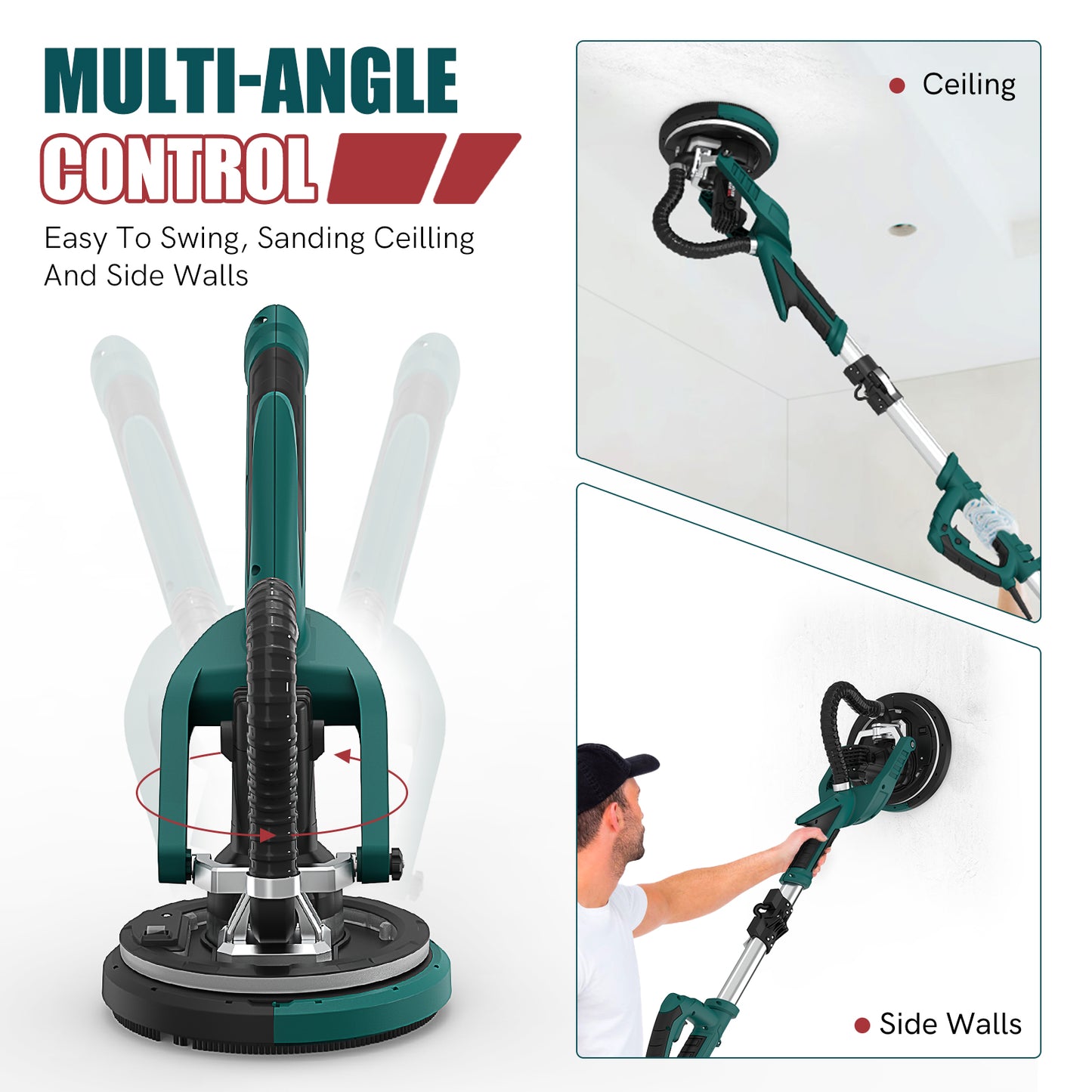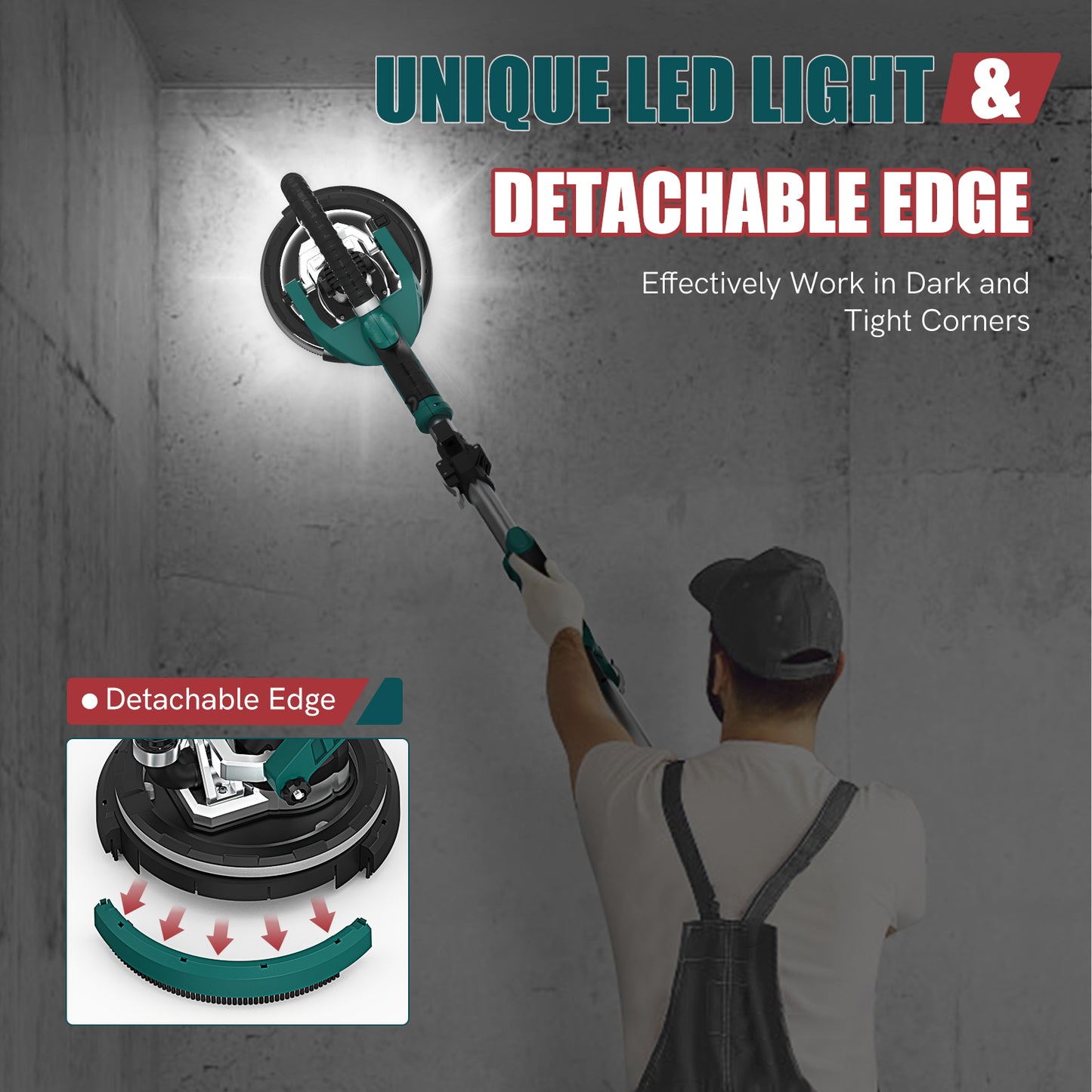 👩‍💼【After-Sale Service】 Enjoy peace of mind with our

12-Month

Warranty & 24/7 customer service. We offer a 30-Day Return & Replace Policy to prioritize your satisfaction! 😊
🔥
【Ultimate Power & Precision】
Experience the might of our 800W high-power pure-copper motor drywall sander. With 7 variable speeds, it effortlessly tackles grinding tasks on ceilings, walls, and floors. ETL certification ensures safety.
🌀【Effortless Dust Removal】
Say goodbye to post-job cleanups! 10 vacuum holes and auto dust collection system keep your workspace clean. The vacuum adapter connects directly to your cleaner, enhancing efficiency and reducing dust exposure.
💡【Enhanced Visibility & Convenience】
Innovative 360° LED lights brighten dark work areas, revealing sanding quality. The detachable chassis edge aids corner polishing. Enjoy optimal sanding conditions for improved results.
🎈【Versatile & Adjustable Design】
Revolutionize your sanding experience! Extendable handle (57-68.7 inches) eliminates ladder use. A 90° pivoting head adapts to every surface. Ergonomic grip minimizes vibration, enhancing comfort.
🎁【Complete Package & Ease】Our drywall sander bundle includes all essentials: 12 sandpapers (120/150/180/240 grit * 3pcs), dust hose, dust bag, carrying bag, and more. Empower your projects with comprehensive accessories.
360° Swiveling Base

Adopts 9-inch + 360° floating head that can swivel 360 degrees to easily fit any corner, edge or wall, achieve uniform polishing and effectively solve the dead angle of sanding.

7 Variable Speed

Variable speed control dial (900-1800 RMP), enables user to match the sanding speed to the application.

12 PCS Replaceable Sanderpaper

Replaceable 10-hole Hook-and-loop base pad makes changing sandpaper easier than ever.
Detachable Edge

The detachable chassis edge designed for working in tight corners and hard-to-reach places, reduces the distance bewteen sander and walls, greatly improving work efficiency.

Unique LED Light

The patented LED strip lights helps you to check the sanding effect and work efficiently in a dark environment. The separate switch designed allows you to turn on/off according the working view.

Dust Collection Bag

Detachable dust bag helps keep your work space cleaner and the air free from dust. Take the hassle out of dealing with sanding messes and make your job easier.
Removed Popcorn Ceiling Fairly Easily
A relative recently purchased a home he plans to renovate and rent out. The living room had popcorn ceilings, which had to be removed, so I volunteered to try this unit out. It worked really well and was easy to use. The dust removal system works reasonably well, though I still wore a protective mask.The handle extends long enough that you should be able to do most jobs standing on the floor. The built-in LED lights help you see imperfections easily, and the edge guard comes off if you need to work into tight corners. The unit is not too heavy, and the handle is comfortable... and the noise is not too loud. Overall, a nice drywall sander.
Easy to use
This machine packs a lot of power and makes drywall installation quick. The sanders work well and provides a seamless look in a smaller amount of time.
Heavy Duty
I recommend it, I love this drywall sander! The unique feature is the LED light.This is a good investment.
Excellent Sander! Great for dry wall cleaning
Bought this drywall sander for refinish my basement. Super easy to assemble, it came in with everything included so I can start my job immediately. It's a great sander for what I'm using it for and has speed up our work greatly, reduce labor time. Just as the seller advertised, attached to a shop vac for extra dust collection. Whatmore, the LED lights are such a good idea and they work so well at showing up imperfections. This sander a little heavy when doing ceilings, I need two hands to operate but not overly so. Works better than expected. I'm surprised with the quality and power. Would Recomend!
Great sander
So far it works great! Has really good power-7 speeds, powerful then i expected. I never used one before, so it takes me a little practice to get used to the sander. It is better to sanding wall from the slower speed at first, in case of over sanding the wall, after that it'll get more easier and adjust the speed to your prefer. The sanding pole can be extended, make it easily access to hard-to-reach corners and high ceilings. The electric sander is easy to use and assemble. It comes with a dust bag, a great attachment to eliminate dust inside the house, make the sanding easy, effective and efficient. It really saves me a lot of time. Love it!