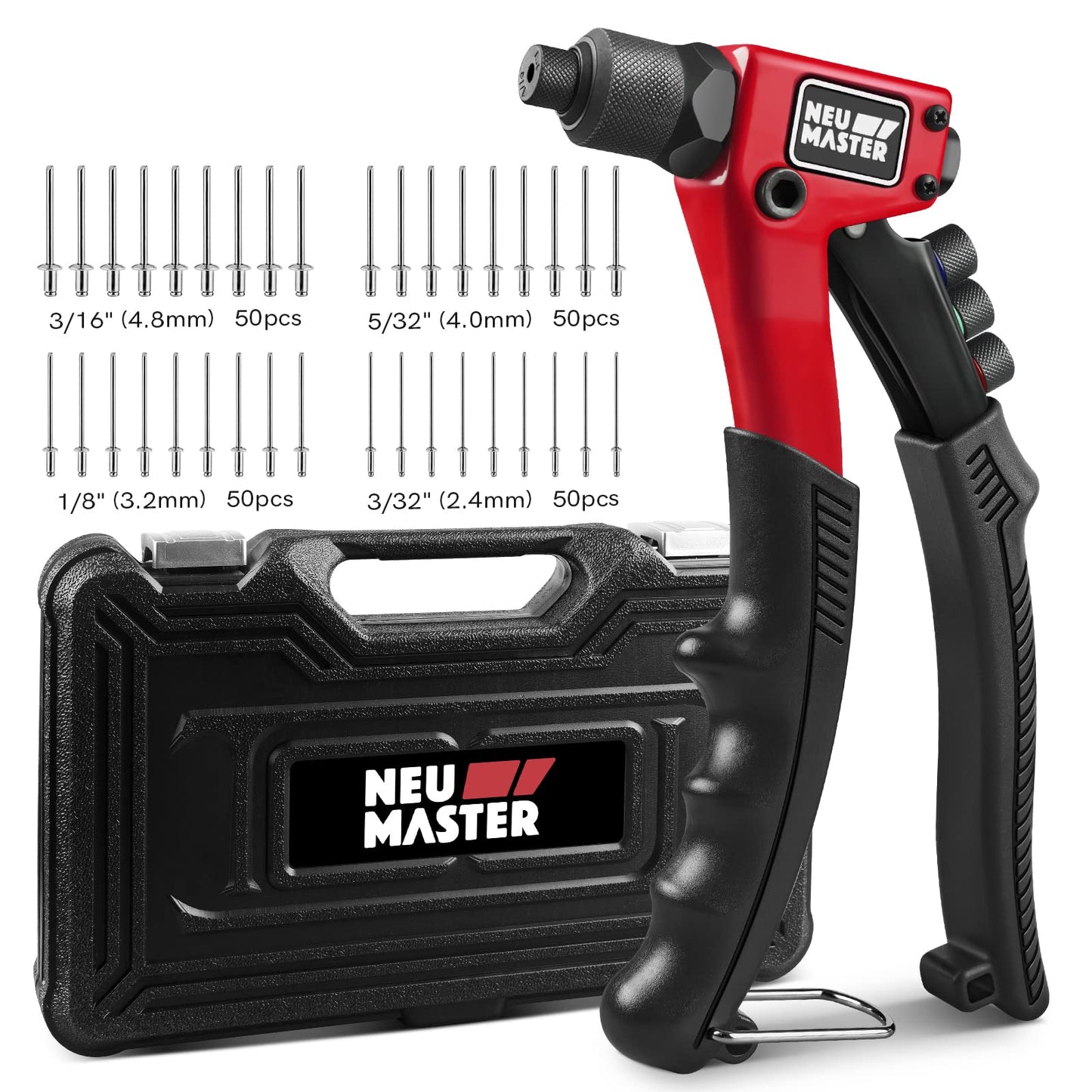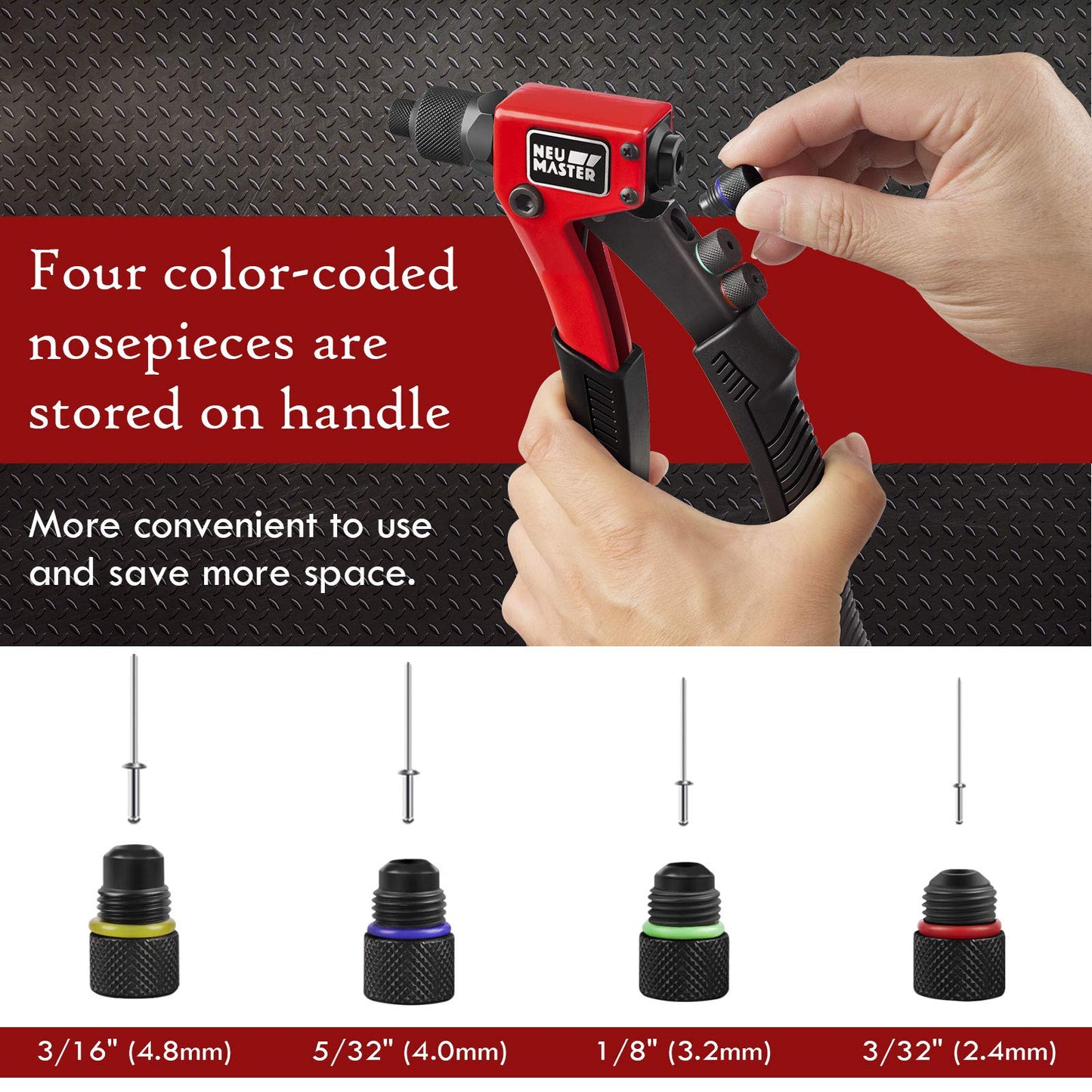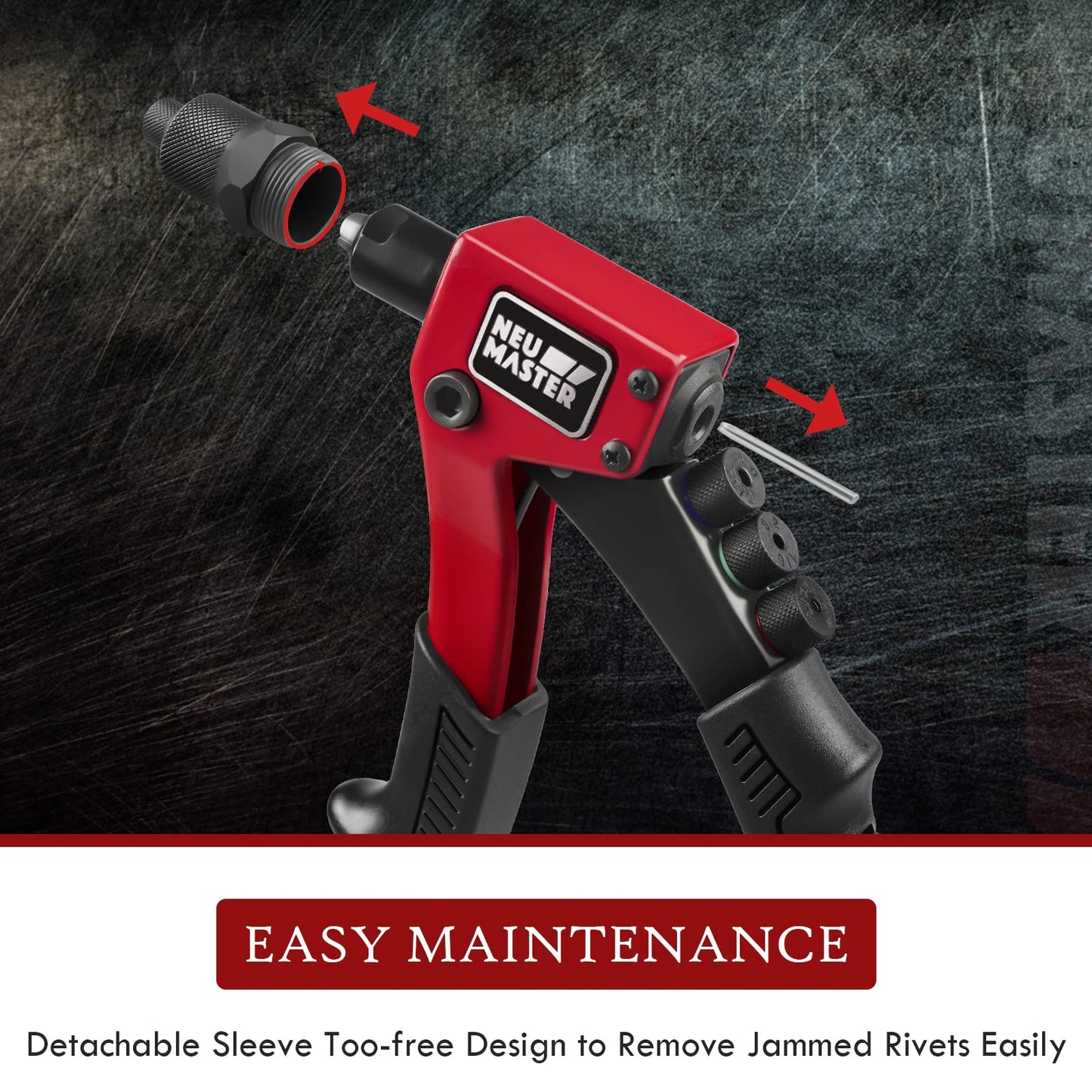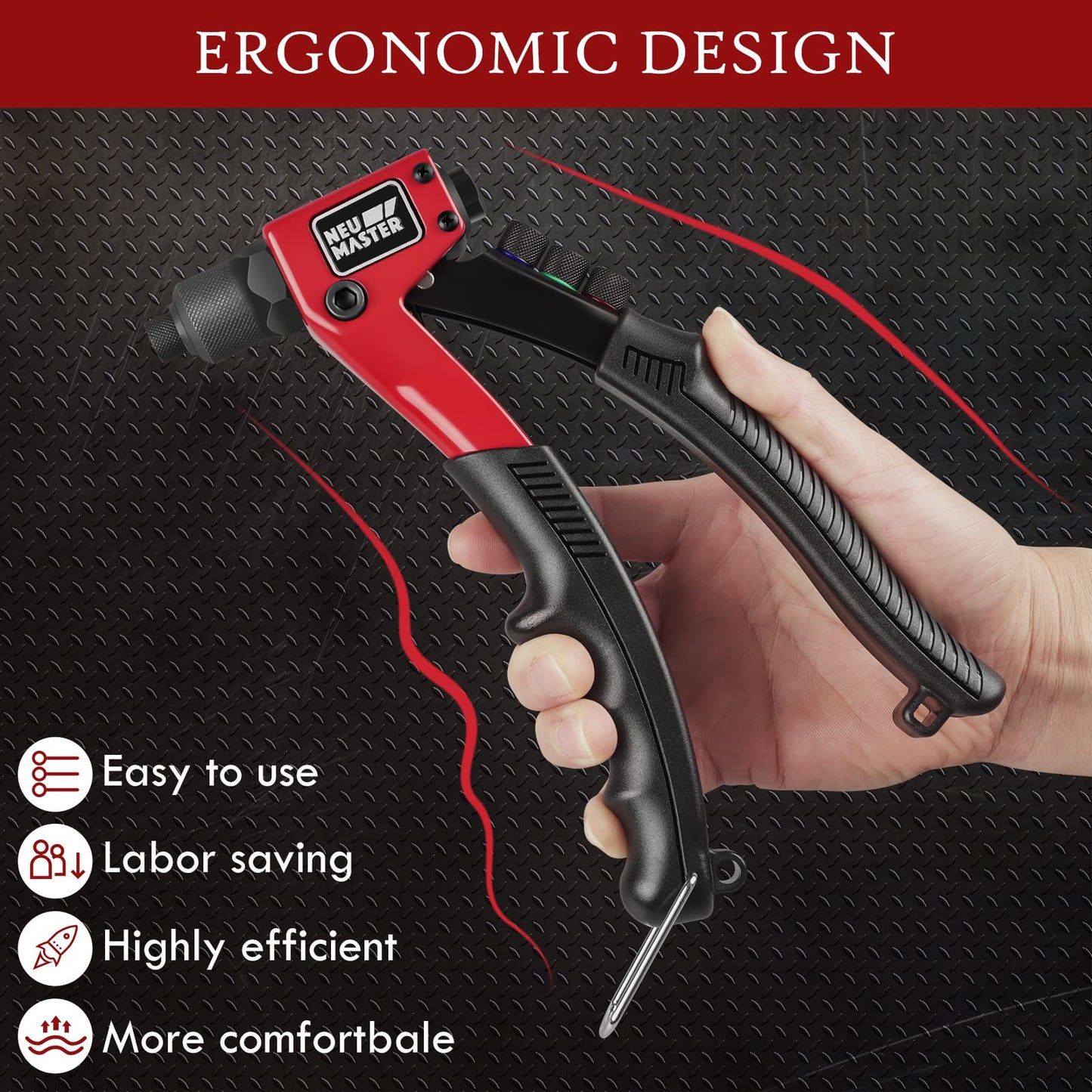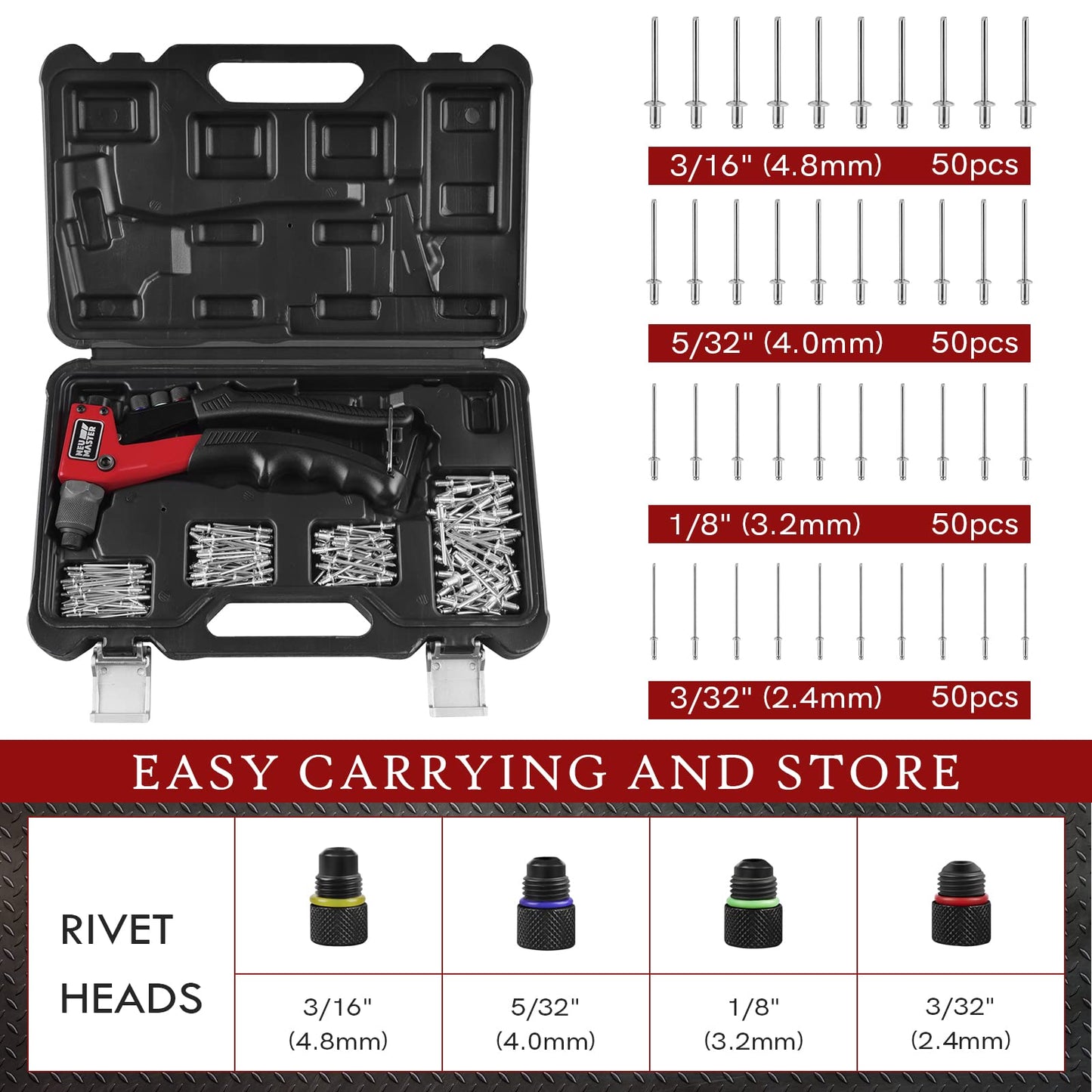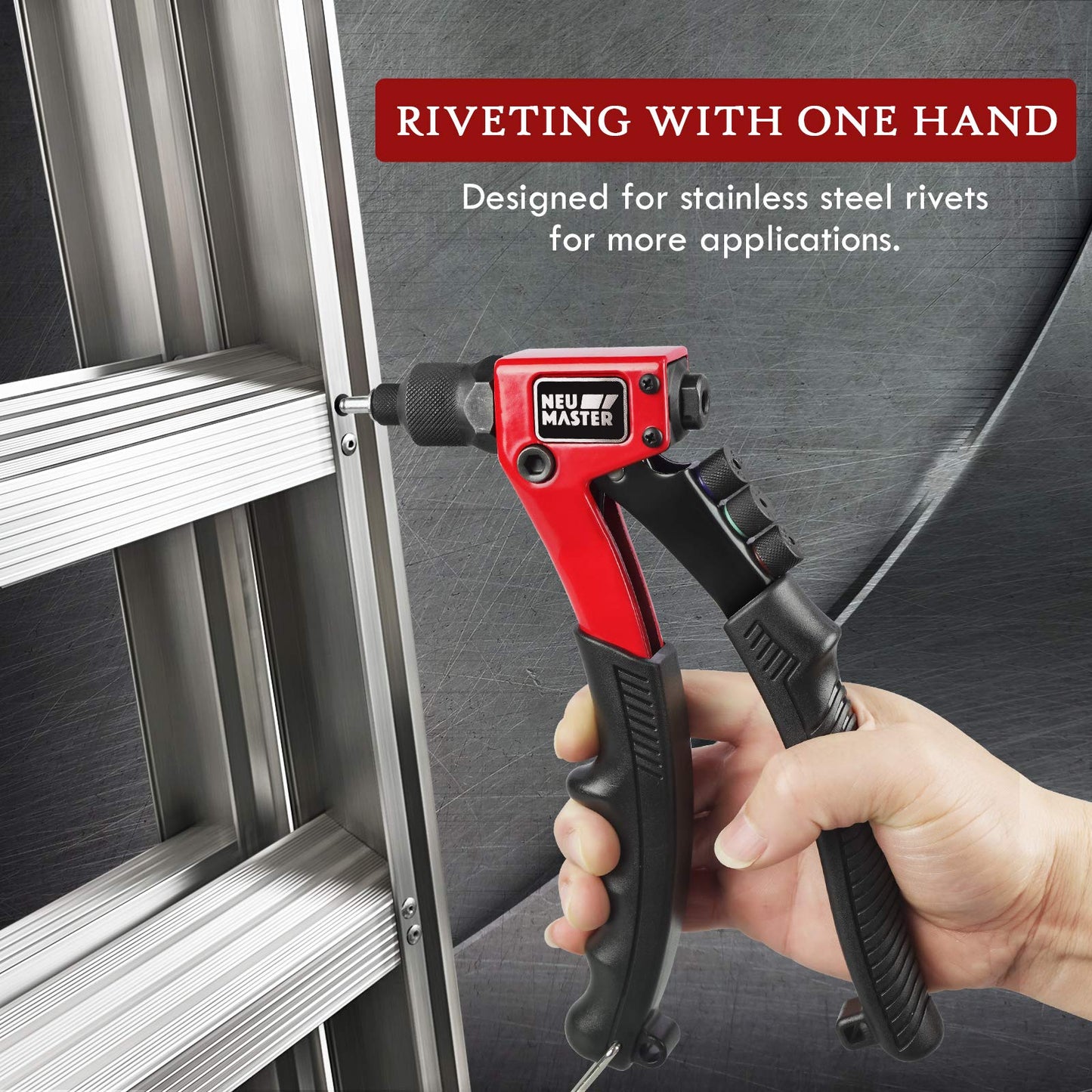 👩‍💼【After-Sale Service】Enjoy peace of mind with our 12-Month Warranty &

24/7

customer service. We offer a 30-Day Return & Replace Policy to prioritize your satisfaction! 😊
🔧【Interchangeable Rivet Heads】Color-coded and easy to swap heads (3/32", 1/8", 5/32", 3/16") with 50 pcs rivets each. All you need for riveting.
💪【Sturdy & Durable】Co-Mo alloy steel rabbit jaws, heat-treated carbon steel handle, and aluminum alloy body ensure strength and longevity.
👌【Effortless Operation】Ergonomic design for single-hand use, saving over 20% effort. Tool-free removal of knurled rivet heads.
📦【Complete Rivet Tool Set】Includes Rivet Gun, 4 Rivet Packs, Sturdy BMC Case, and User Manual.
🏗️【Versatile Applications】Perfect for fastening metal and heavy fabric in various construction and repair projects. Automotive, aviation, railway, elevator, instrument, and furniture applications.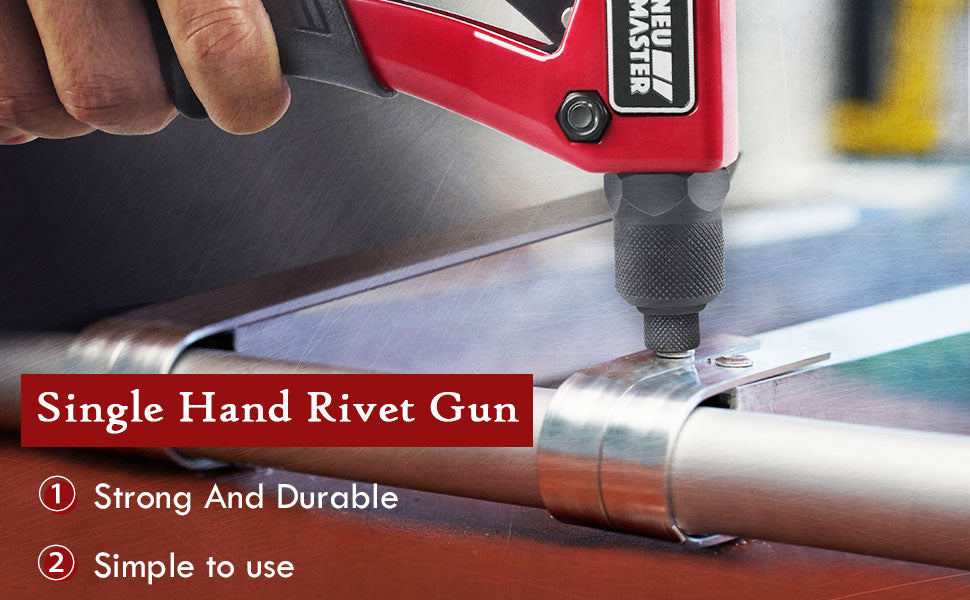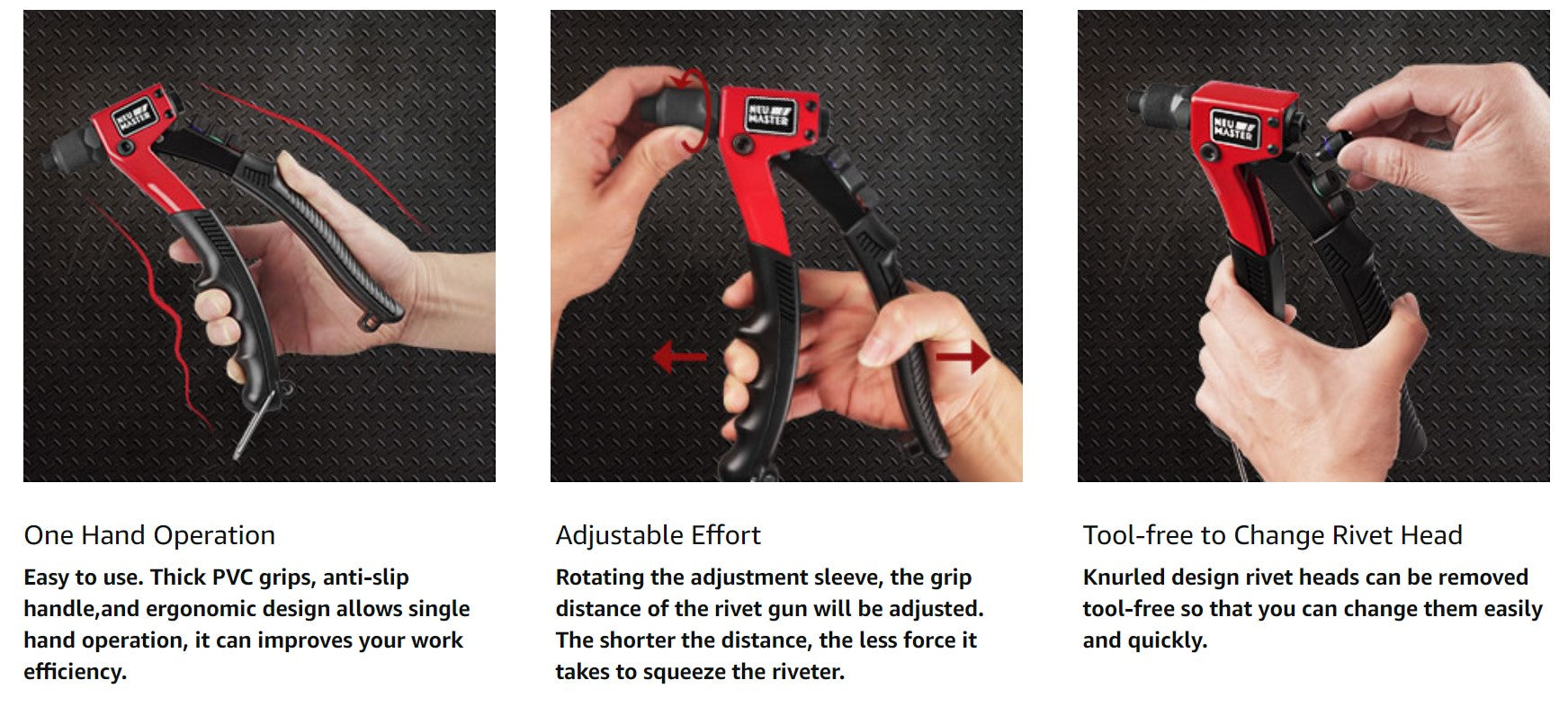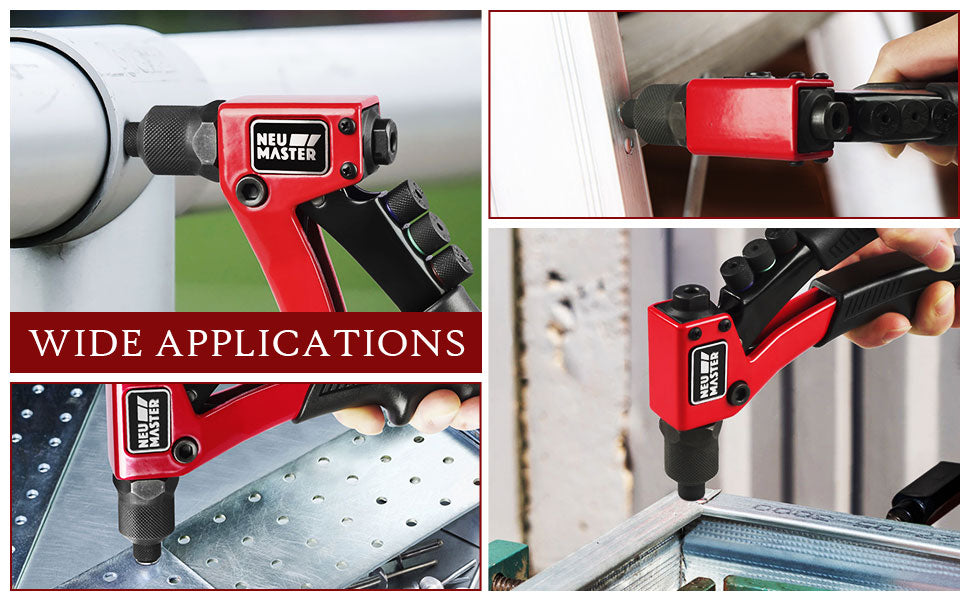 Muy exelente servicio rápido
Exelente remachadora muy fuerte y fácil de usar ,la use para remachar unos soportes en mi tacoma
Smooth operation and can handle 3/16" Stainless Rivets
Very easy to use and fairly strong for a fairly inexpensive rivet gun. I used it to install some 3/16" stainless steel rivets for a Bimini top, and it did great. Some of the reviews for rivets guns in this price category mention that they don't do well with the larger stainless rivets. So I was very pleased tha5 it performed so well.
Got the job done
The rear door catch in my van busted which uses rivots to hold in place. This tool installed the 4 needed rivots for me, no problem.
A great rivet tool.
I am a pretty intense DIY'er and love good tools. Some call me a tool junkie. I don't buy on price only but quality and function and engineering. I must confess that I have never used nor needed a rivet tool before however I am now doing metal siding on my home and that is how the inside/outside corners are fastened to the metal. I read alot of reviews which of course makes it hard sometimes to make a decision since reviews are always mixed but if you look at the reviewer and his spelling and the dates and even his complaints you can generally see thru the BS. I bought this tool and so far have had a great experience with it. It is solid and grips the rivet pulling thru with just a few hard squeezes and cuts it cleanly. The spent portion drops out easily and the rivet has a clean finish look. I am using 1/8" color matched rivets not supplied. This tool comes in a great protective case and stores cleanly until you are ready to use it again. I jammed it up once but I think it was my fault and lack of understanding and not the tool. It cleaned out and went back to work right away. My bad. Good tool and would recommend for any DIY'er and some professional use.
Fixed aluminum boat
My nephew cut some holes in the jon boat for seats. I patched them up using this as I no longer wanted the holes there. I've never used a riveter before and it was very easy. Don't know why I didn't buy one sooner as its very handy.