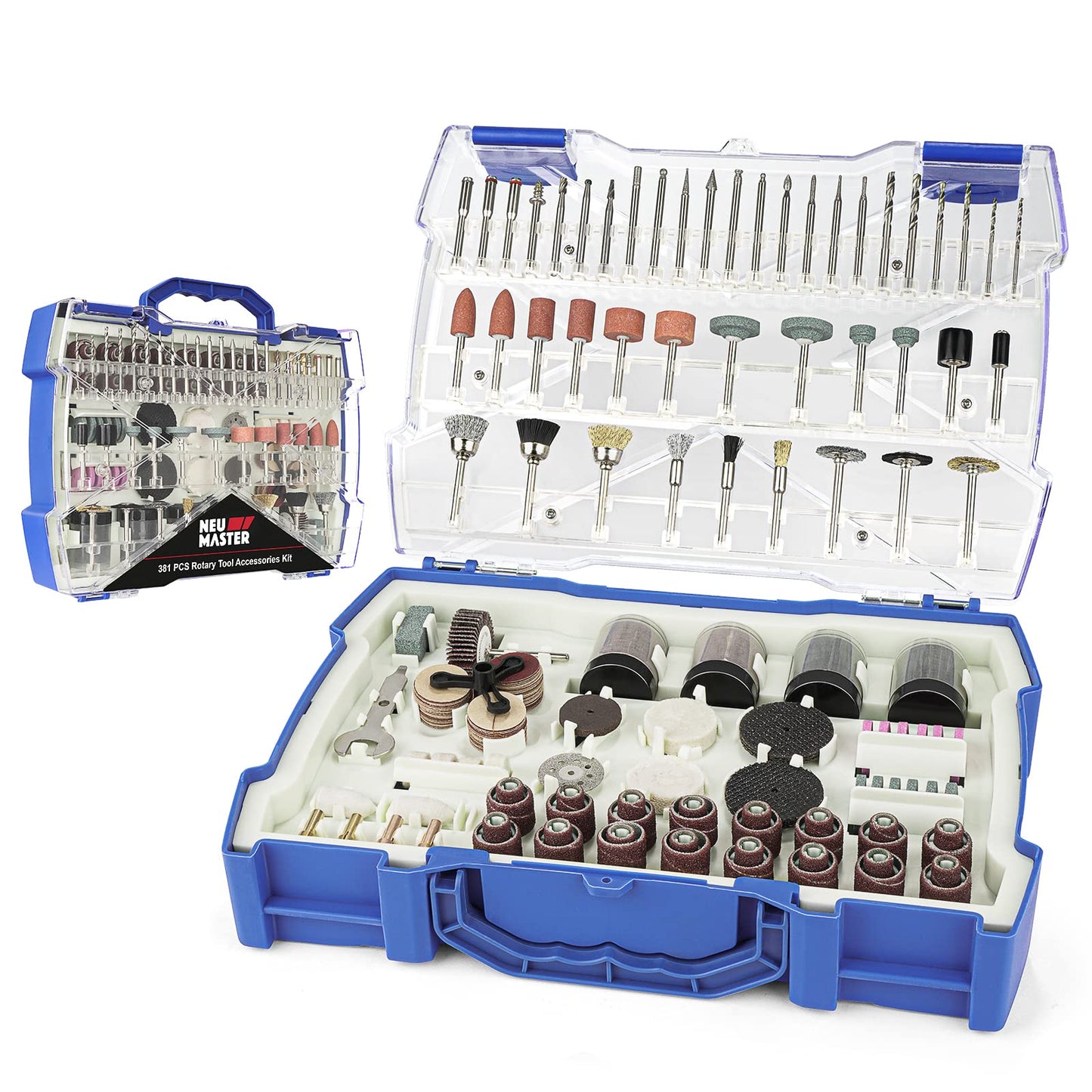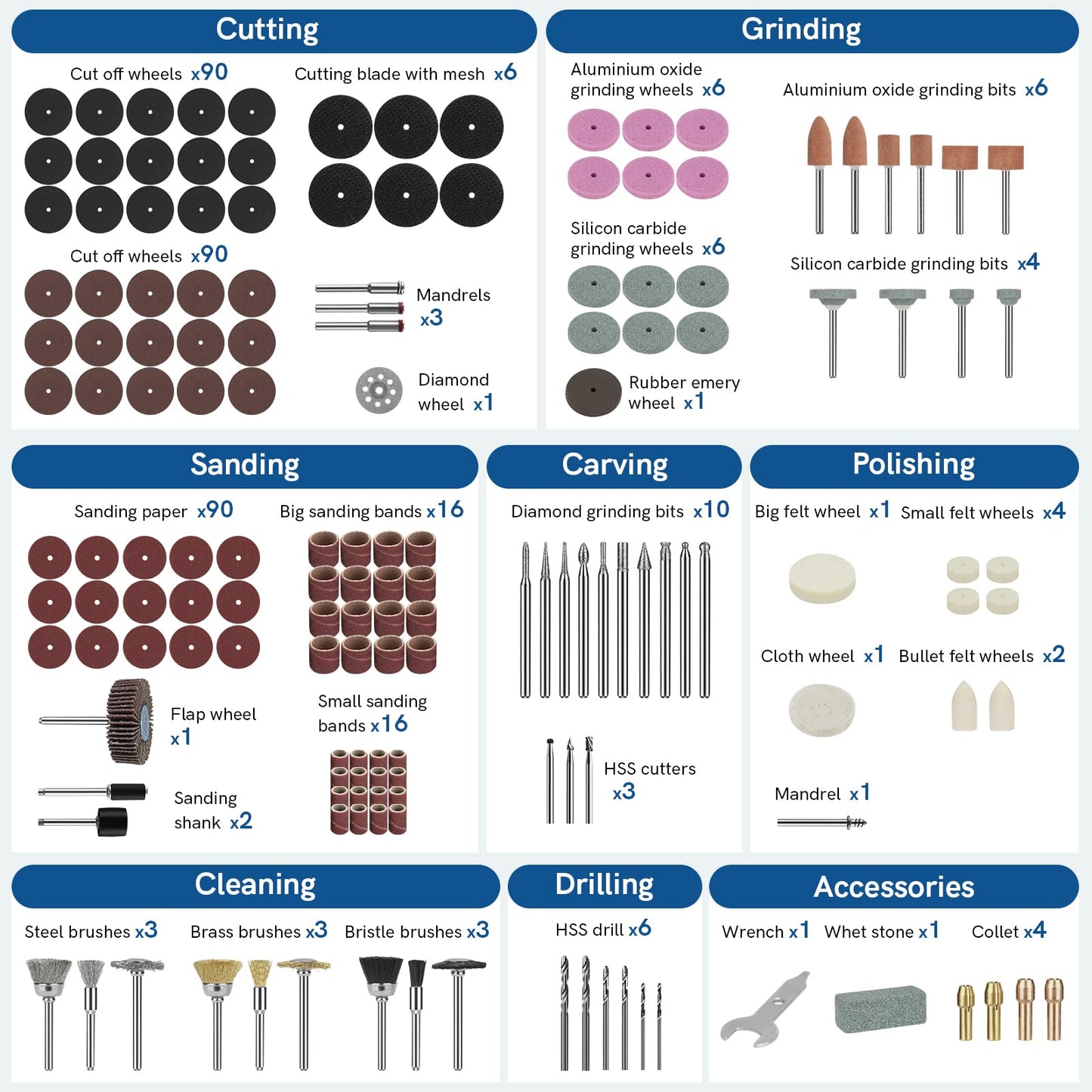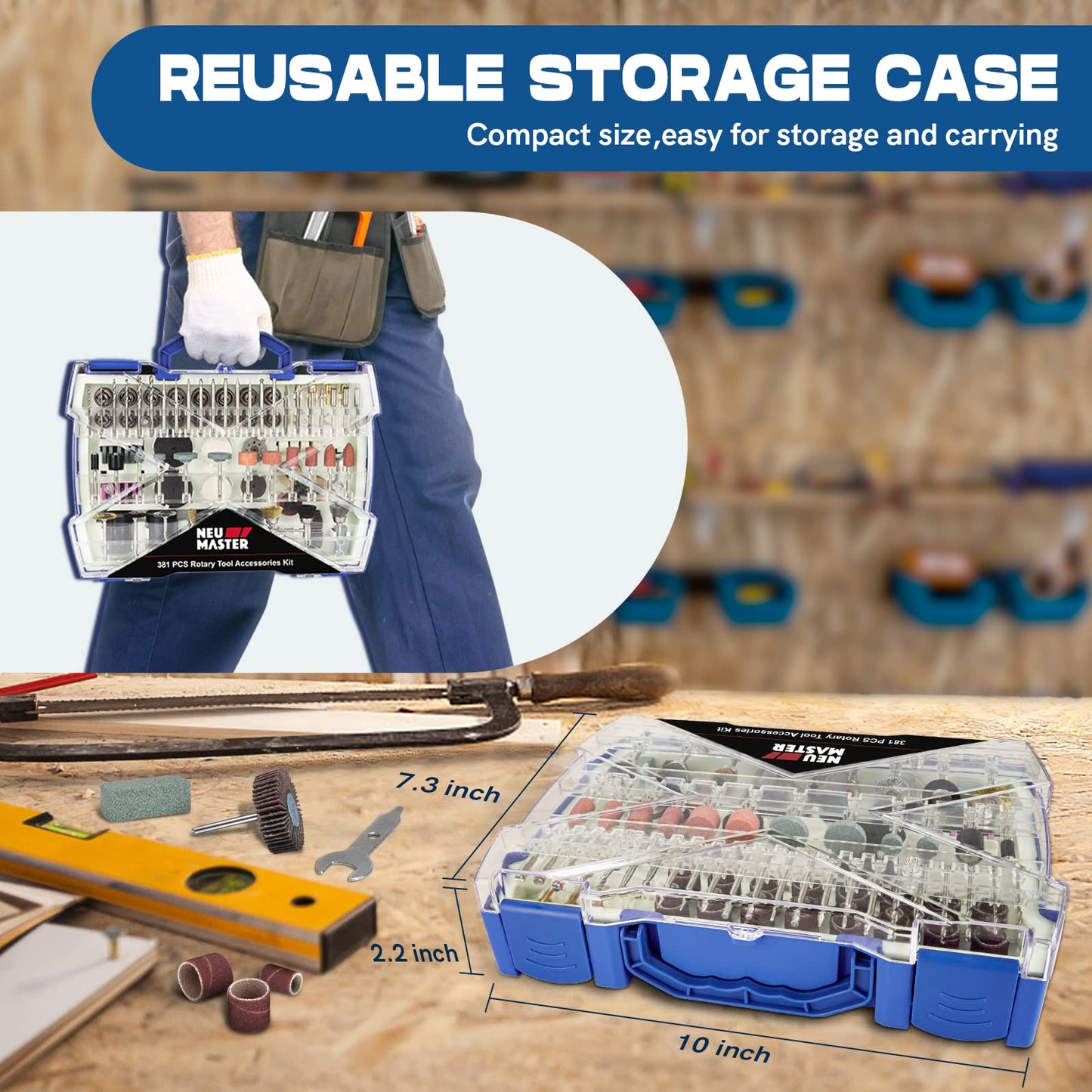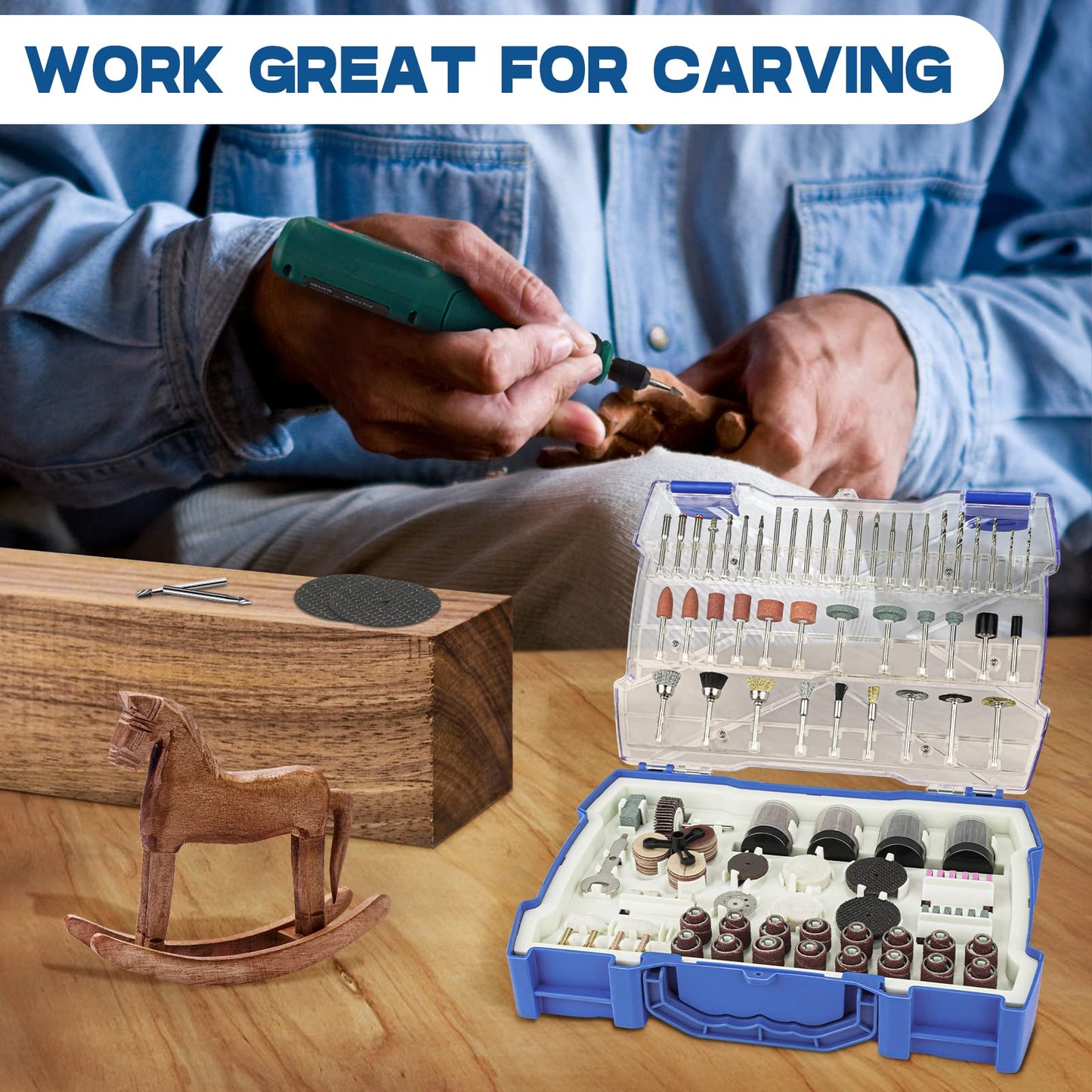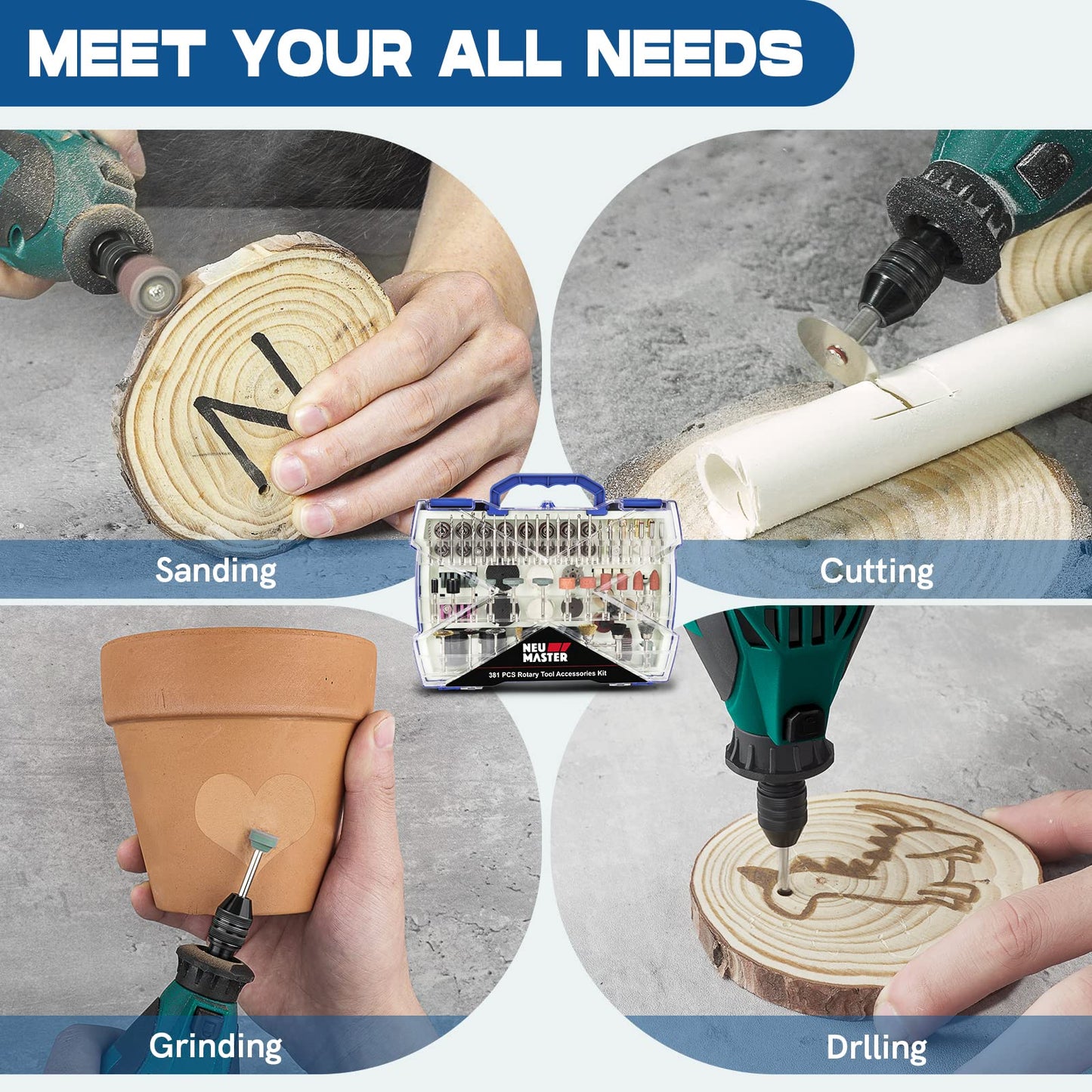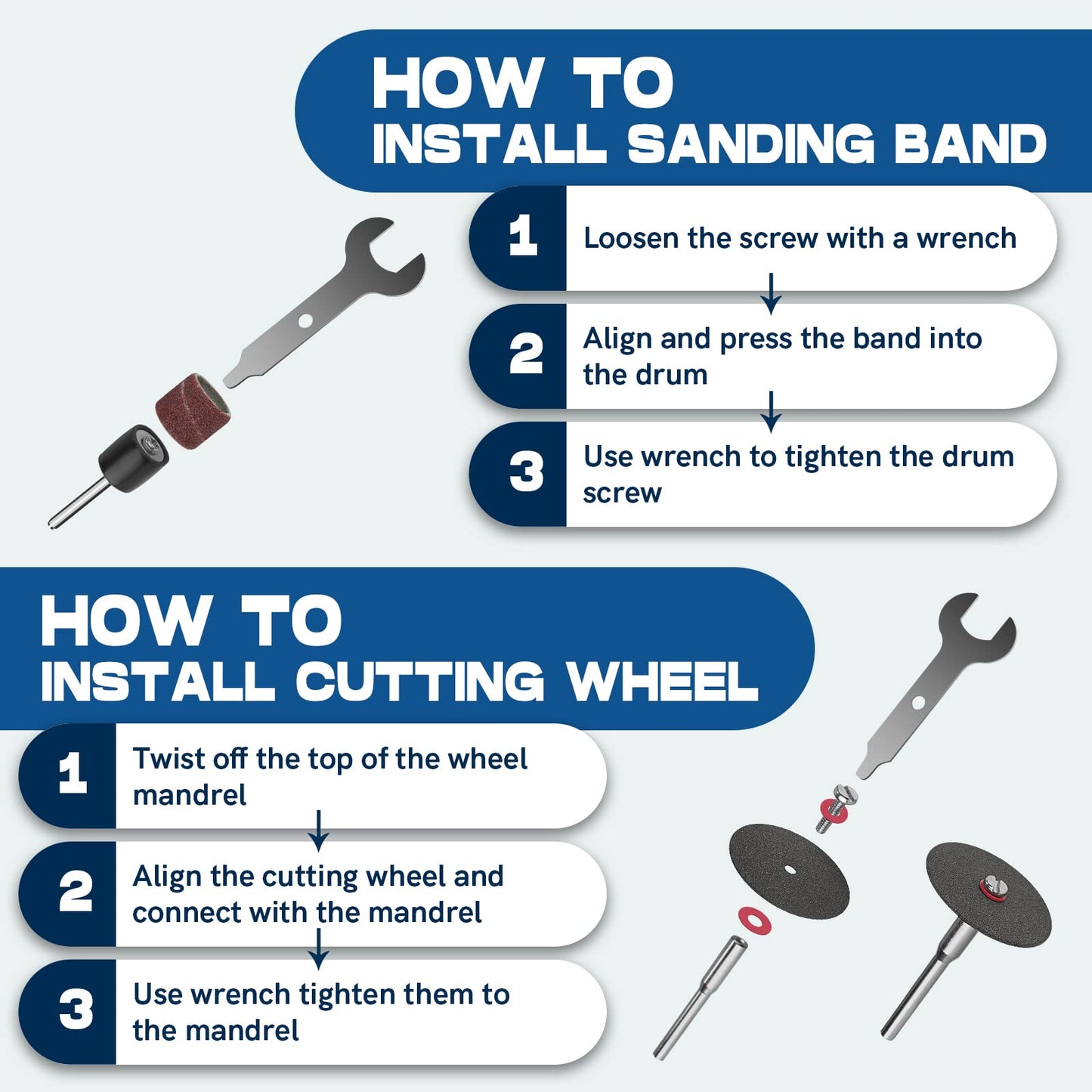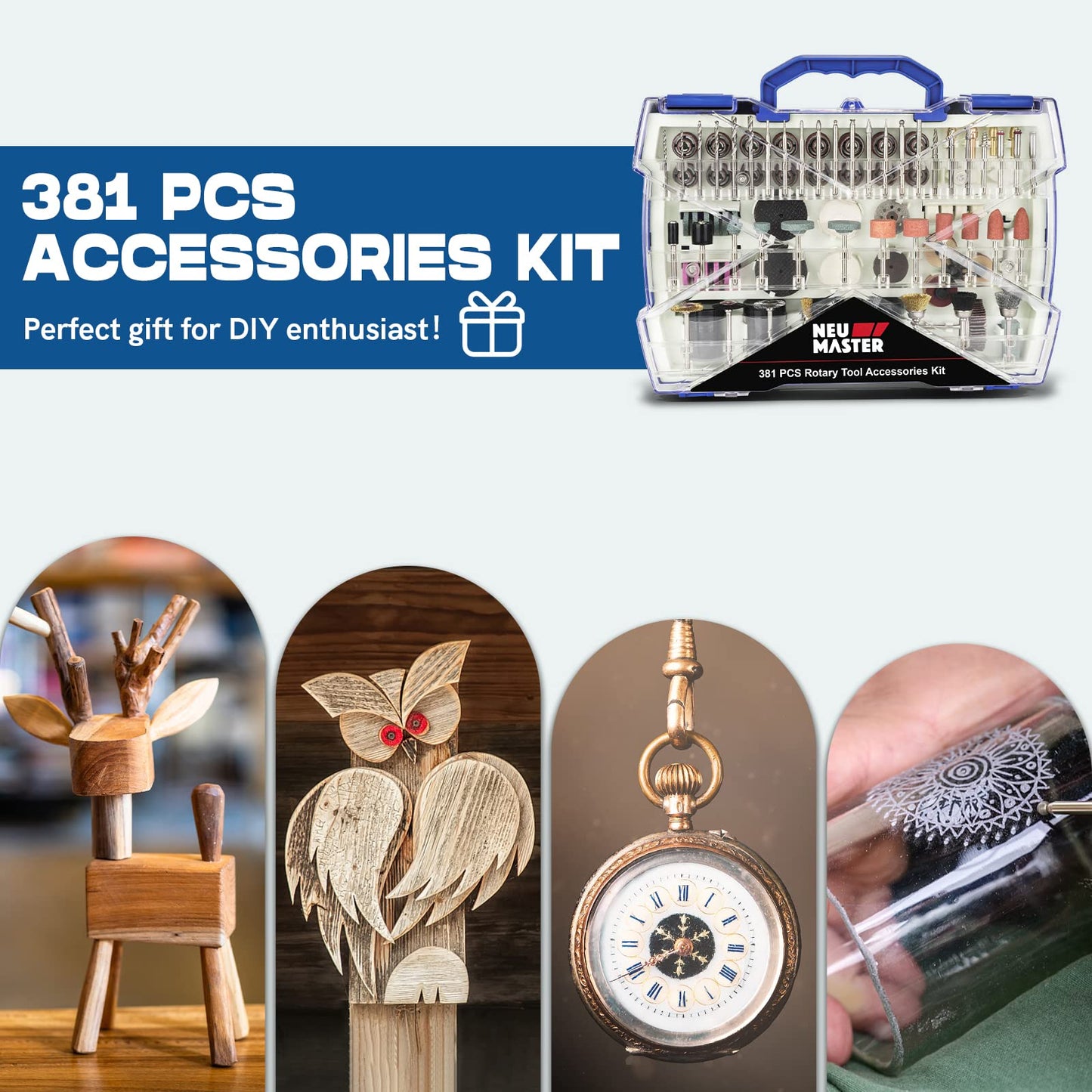 👩‍💼【After-Sale Service】Enjoy peace of mind with our 12-Month Warranty & 24/7 customer service. We offer a 30-Day Return & Replace Policy to prioritize your satisfaction! 😊
✨【Complete Accessories】Embrace 381 versatile rotary tool accessories - drill bits, sanding items, wheels, brushes, cutters, and more. Meet your diverse needs: cutting, grinding, sanding, engraving, polishing, drilling, and cleaning.
🔌【Universal Fit】With 4 chuck collets (1/16", 3/32", 1/8"), multiple sizes for fine detailing across materials. 1/8" shank fits most rotary tools, including Dremel, NEU MASTER, GOXAWEE, APEXFORGE, and more.
🎁【Handy Storage】Neatly arranged in a durable transparent plastic storage box, anti-fall and moisture-resistant. Organized, lightweight, and portable. Accessories securely placed, preventing scattering and loss.
🛠️【Quality & Versatility】Premium accessories for reliable cutting and grinding. Swift, safe, and enhanced sculpting or polishing. Ideal for wood, glass, ceramic tiles, plastic, metal, and jade polishing.
🎉【DIY Delight】Delight your parents, friends, and crafting enthusiasts with NEU MASTER's rotary tool accessory kit. Also an excellent gift for occasions like Christmas, Birthdays, Thanksgiving, and Fathers' Day. Perfect for DIY and small home projects.
Great little boxed kit
This kit is a pretty comprehensive one that includes most of the bits you could want for all around applications. It comes with an array of cutting, polishing, and sanding discs as well as a nice assortment of Aluminum Oxide and Silicon Carbide grinding bits. In addition, there are a number of carving bits. Also included are several collets and a chuck wrench. I obtained this kit for use with my old Dremel moto tool that I have had for over thirty years. In the second photo, you can see an assortment of the Dremel branded tool (on the left) next to the matching one from this kit. As you can tell, there is some difference, but to someone like me, who uses a rotary tool only a few times a year, completely adequate.Overall, I find this to be a good value for the price. Certainly better than the price for the brand name alternative at roughly $14/bit.
Accessories galore
This product is an excellent assortment of tools for the DIY guy. There's very little to not like about the varied tools. There are drill bits, grinding wheels, sanding drums along with a generous supply of disposable grinding disks and sandpaper. The only thing I didn't find would be polishing compounds for fine polishing of jewelry and small projects that need that extra sparkle. This product would be an excellent choice for the beginning user or established craftsman. I also tried many of the different attachments in my high speed rotary tool and found them to be balanced and capable of precise use in carving and sculpting projects.
Good organization and selection
This kit works well with a Dremel or die grinder depending on the speeds supported by the tool. The case makes it easy to keep the parts organized, a lot of these I don't use on a daily basis so it is key to see everything when I look for a particular piece.Quality seems on par with what you'd expect for the price range, the abrasives won't compete with big names but that's not really needed for the small jobs you'd use this kit for.
Great selection of Rotary Tool bits
This set has a nice variety of bits and accessories. I like the storage container to keep the bits organized and visible. The bits I tries were sharp and did the job.
Excellent Rotary Tool Accessories Kit
Neu Master's rotary tool accessories kit is very complete. The quality of the individual items is good, and the quantity is gracious. This is an excellent kit for either the rotary tool beginner or a seasoned tool user. It comes in a nice case to keep everything organized. This well-balanced kit will find a lot of use in my workshop.