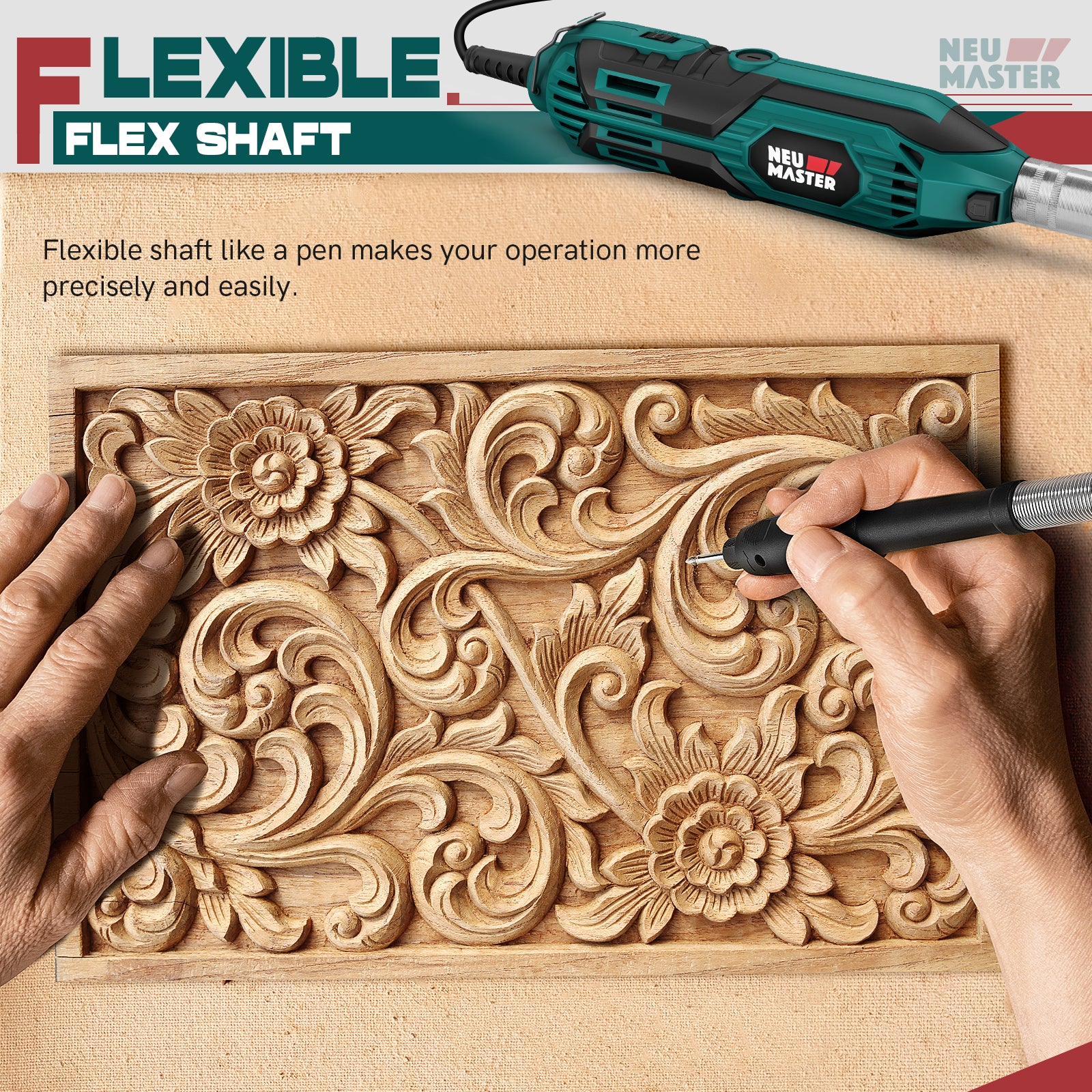 180W Rotary Tool Kit's Enchanting Projects!- Part 1
Discover the Magic Projects with the 180W Rotary Tool Kit!
Are you prepared to inject a splash of creativity into your world? The realm of imaginative projects beckons, and the 180W Rotary Tool Kit from Neu Master is your gateway to turning artistic visions into reality. Embark on a journey through the first 8 projects that will spark your creativity and unleash your inner artist.
1. Rock Necklace
Elevate your accessory game with a personalized touch. Use the 180W Rotary Tool Kit to carve intricate designs on stones, creating unique rock necklaces that showcase your style.
2. Constellation Box
Keep your treasures safe in a stylish wooden box adorned with star carvings. The 180W Rotary Tool Kit empowers you to create a box that's both functional and visually appealing.
3. Cheese Boards
Serve up elegance with customized cheese boards carved using the 180W Rotary Tool Kit. Impress your guests with designs that make your gatherings truly special.
4. Feather Wind Chime
Turn a simple coffee can into a feather-adorned wind chime that adds whimsy to your backyard. With the 180W Rotary Tool Kit, crafting a unique outdoor decor piece has never been easier.
5. Etched Wooden Spoons
Add a creative touch to your kitchen essentials. Etch intricate patterns onto wooden spoons using the 180W Rotary Tool Kit, transforming them into functional works of art.
6. Christmas Ornaments
Make your holiday tree shine with handcrafted ornaments. Use the 180W Rotary Tool Kit to create unique decorations that add a touch of magic to your festive season.
7. DIY Jack-o-Lanterns
Embrace the spooky season with Dremel-carved Jack-o-Lanterns that'll leave a lasting impression. Use the 180W Rotary Tool Kit to create intricate patterns that set your pumpkins apart.
8. Wood Phone Charger
Charge up your creativity while charging your phone! Craft a sleek wooden phone charger using the 180W Rotary Tool Kit, combining functionality with visual appeal.
Stay tuned for Part 2 of our Creative Projects series, where we'll unveil the next 7 exciting projects and show you how the 180W Rotary Tool Kit can elevate your crafting experience!