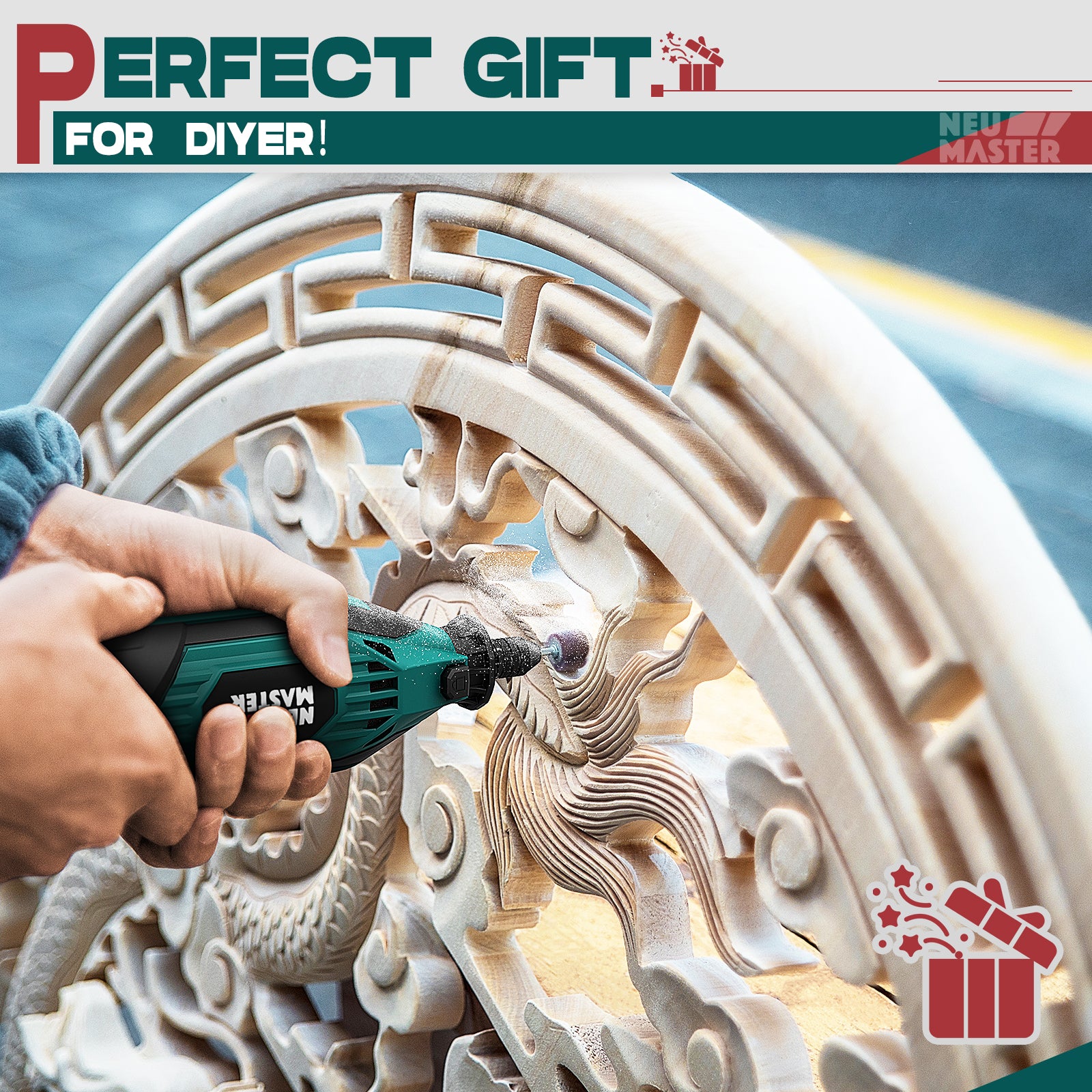 180W Rotary Tool Kit's Enchanting Projects!-Part 2
Dive Deeper into Creativity with the 180W Rotary Tool Kit!
Welcome back to our Creative Projects series, where the 180W Rotary Tool Kit from Neu Master takes your crafting endeavors to new heights! Let's jump into the next 7 exhilarating projects that will awaken your creativity and leave you eager to craft more.
9. Copper and Leather Shoes
Wrap yourself in uniqueness with a copper and leather shoes. Use the 180W Rotary Tool Kit to create a trendy fashion that showcases your individuality.
10. Carved Wooden Bird
Embark on a creative journey by crafting a wooden dragon masterpiece. Let the 180W Rotary Tool Kit be your guide as you bring this mythical creature to life.
11. Engraved Candles
Set the mood with engraved candles that showcase your artistic finesse. The 180W Rotary Tool Kit lets you carve intricate designs on wax, adding a touch of elegance to your decor.
 12. Carved Nightstand
Add an artistic touch to your furniture with carved patterns on a nightstand. The 180W Rotary Tool Kit allows you to transform ordinary furniture into functional art.
13. Giant Script Name
Personalize a space with a wooden nameplate crafted using the 180W Rotary Tool Kit. The perfect gift for a baby or child, this project lets you showcase your creativity.
14. Carved Egg-citement
Easter gets an artistic twist with Dremel-carved eggs. Use the 180W Rotary Tool Kit to carve intricate patterns that turn eggs into festive decor pieces.
Congratulations! You've completed the Creative Projects series with the 180W Rotary Tool Kit as your creative companion. We hope these projects inspire you to continue exploring the world of crafting and DIY creations. Your artistic journey has just begun!