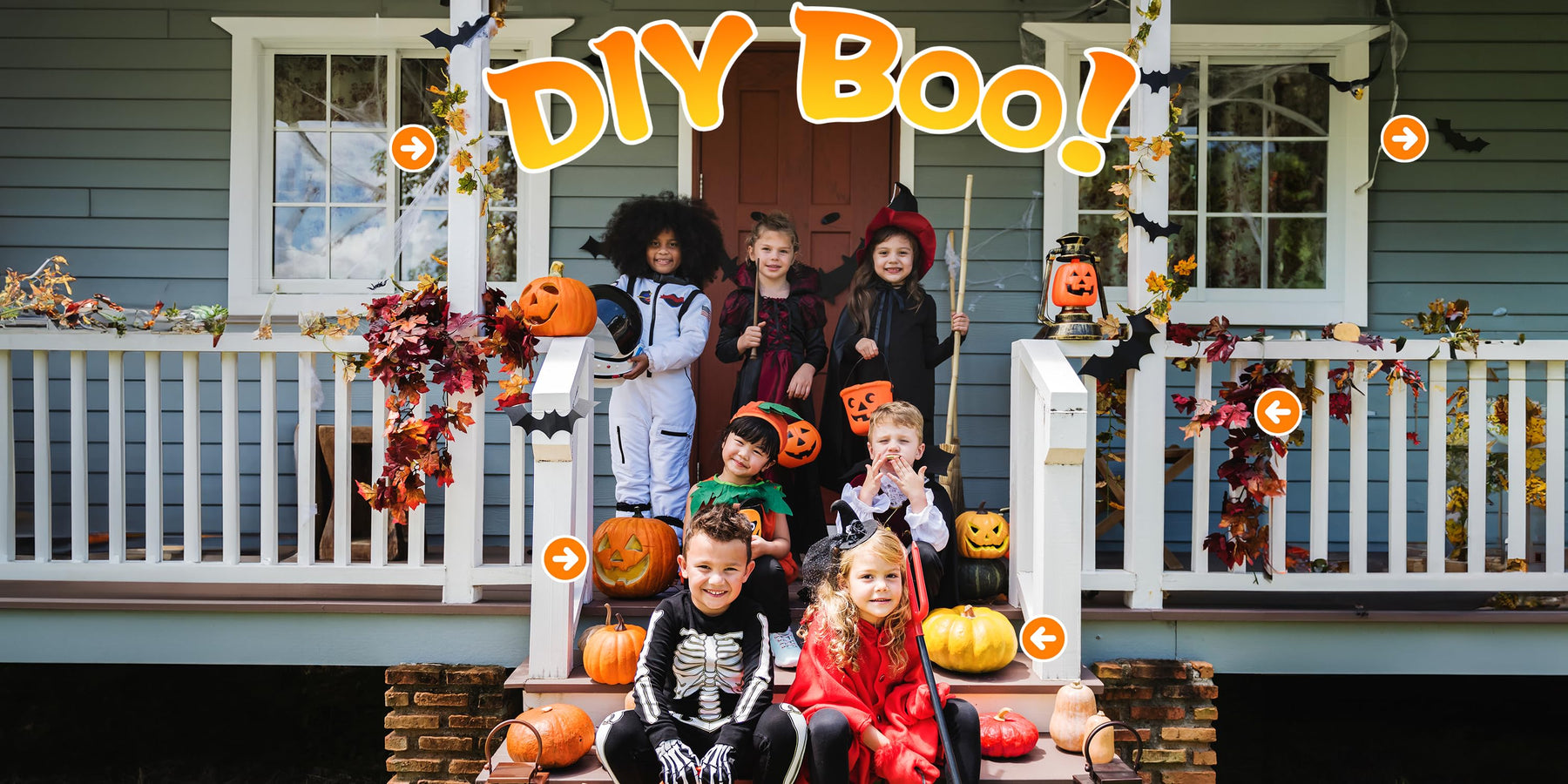 Elevate Your Halloween Decor with DIY Pumpkin Topiaries
As the crisp autumn air sets in, and we find ourselves spending more time in the cozy embrace of our homes, it's the perfect moment to usher in the fall season with a touch of

Halloween Magic.

From the warm glow of classic pumpkins to the flickering light of candles, the inviting charm of garlands, and the haunting beauty of wreaths, this season invites us to transform our spaces into a spookily stylish and scarily inviting haven.
Crafting Your Halloween Wonderland on the Front Porch:
When it comes to Halloween decor, the front porch stands as the canvas for enchantment. Its welcoming aura beckons creativity, setting the stage for a display that captures the essence of this mystical season.

Unleashing Your Inner Artist: The 8V Cordless Rotary Tool
For this enchanting project, the 8V Cordless Rotary Tool emerges as your trusted companion, enabling precision in pumpkin carving. With its universal chuck, there's no need for collets or wrenches when changing accessories. Featuring a high-capacity 8V 2.0Ah battery, enjoy extended usage on a single charge. The built-in LED lights indicate battery status, and the convenient Type-C charging ensures you're always ready to go with 5 variable speeds ranging from 5,000 to 30,000 RPM, it grants you the finesse needed for even the most intricate designs. Its ergonomic design ensures a comfortable grip, allowing you to create with ease even during extended crafting sessions. 
Know more: 8V Cordless Rotary Tool



Bringing Your Creations to Life: Neumaster Sprayer N3140 or NSG0110
To breathe life into your Halloween pumpkin topiaries and decorations, consider the Neumaster Sprayer N3140 or NSG0110. The N3140, fueled by a 20v MAX rechargeable Lithium-Ion battery, promises a superior finish on various surfaces. Its cordless design, combined with a special separation structure, transforms painting into an effortless endeavor. On the other hand, the NSG0060, armed with a 500W Power Motor and a 1200ML paint container, proves to be the perfect companion for larger projects. Both sprayers offer unparalleled flexibility for household projects, ensuring your pumpkins receive a professional-grade finish.
Know more: Paint Sprayer N3140 

Setting Your Masterpieces: Neumaster Heat Gun - A Swift Solution
Once your pumpkins are adorned with vibrant colors, it's time to dry and set them in place with the Neu Master Heat Gun HG0060. This versatile tool, equipped with dual-temp settings and a formidable 380W motor, is the ideal companion for a range of tasks - from shrinking tubes and bending PVC pipes to electronics repairs and vinyl wrapping. Its safety features, including ETL certification and overload protection, ensure you work worry-free.
Know more:  Heat Gun HG0060


Embrace the Halloween Spirit and Captivate Your Neighborhood:
This Halloween, let your creativity take flight with these exceptional tools from Neu Master. Elevate your decor with captivating DIY pumpkin topiaries. Ensure every detail shines with the Neu Master sprayers. With the Neu Master Heat Gun, your creations will be ready to enchant in no time. Let the magic of Halloween illuminate your home, captivating the hearts of all who pass by!