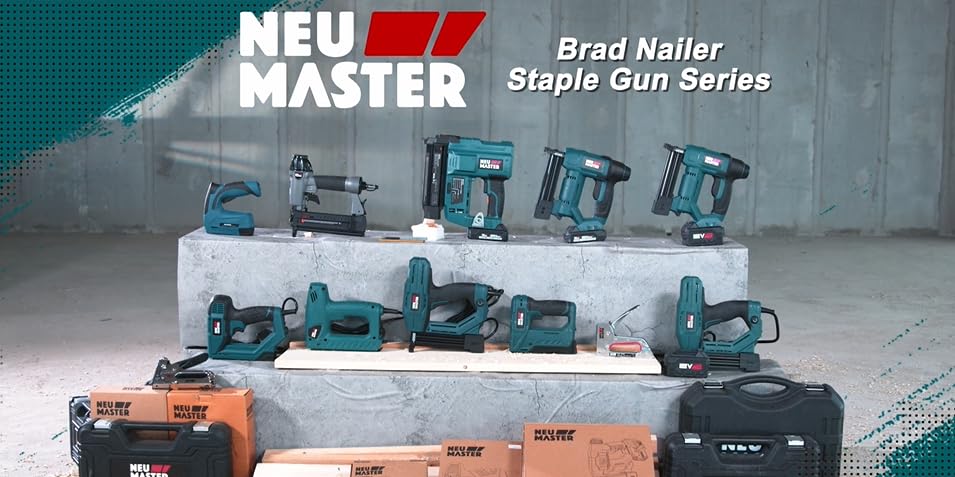 Staple Gun Buying Guide: Find Your Perfect Tool
A staple gun is your go-to tool for a range of home improvement projects, from upholstery to carpeting and screening. We're here to guide you in choosing the right staple gun for your needs. You can find all the products mentioned in this guide at our official store: NEUMASTER STORE.
Manual Staple Guns
Manual staple guns are your versatile companions, easy to carry and handle. They're great for smaller projects, although larger ones may require a bit more elbow grease. They come in plastic, aluminum, and steel variants. Plastic models are lightweight and perfect for simpler home tasks. On the other hand, aluminum and steel models offer durability, making them ideal for heavy-duty materials and outdoor applications.
Electric Staple Guns
Need more power and precision? Electric staple guns are your answer. They're excellent for tight spaces, corners, and ceilings, where manual strength might not cut it. Some come with cords, while others are battery-powered, giving you flexibility, especially for outdoor projects.
Pneumatic Staple Guns
Pneumatic staple guns are the powerhouse of the bunch. Widely used in professional construction, they're perfect for tasks like paneling, flooring, and any job needing numerous or long staples. They're light but tethered to an air compressor, so mobility is limited.
Now, let's dive into our recommended products:
Unleash your inner DIY enthusiast with our Electric Brad Nail Gun. Ideal for upholstery, woodworking, and home projects, it offers adjustable power for various materials. Safety is ensured with a contact safety switch. Handling Staple T50 series or TRA700 series (5/16" to 5/8") and 18-gauge brad nails (1/2'' to 5/8''), this tool is a game-changer. Enjoy 336 staples and 200 nails as a bonus. Reloading is a breeze with the easy magazine release.
Built for durability, our 3-in-1 heavy-duty staple gun features all-steel construction, a sleek chrome finish, and a non-slip grip. It's perfect for upholstery, repairs, carpentry, decoration, furniture, and DIY. Enjoy quick-jam clear, quick-viewing window, and bottom load. Adjust pressure easily with the top screw knob.
Elevate your trim nailing with our NEU MASTER 2-in-1 Nail Gun & Staple Gun. It handles 18-Gauge 2-Inch Brad Nails and 1-5/8-Inch Staples. The package includes a carrying case, safety glasses, lubricating oil, 2 Allen wrenches, and 1000 pcs 18GA supplies. Enjoy user-friendly features like a low nail/staple view window, easy carrying, adjustable exhaust, quick jam cleaning, and precise nail placement.
Go cordless with our Brad Nailer/Stapler. Powered by NEU MASTER 20v MAX rechargeable Lithium-Ion battery, it delivers up to 1100 shots per charge. It handles 1/4'' crown staples (5/8'' to 1'') and 18-gauge brad nails (5/8'' to 1-1/4''). The non-marring rubber nose and ergonomic handle ensure a flawless finish. Illuminate your workspace with the integrated LED light, and enjoy the convenience of the belt hook. Plus, get a bonus of 800 nails and 200 staples. Get ready to tackle your projects with precision and efficiency.
Introducing the Cordless 2-in-1 Brad Nailer/Stapler NBV5040 – hassle-free perfection for all materials! Powered by Cylinder Driving Technology, it smoothly handles 18-gauge brad nails (3/4" to 2") and 18-gauge 1/4" crown staples (5/8" to 1-3/4") in 2" wood. Safety features include precise and single firing modes, a safety pole, and dry-fire lockout. Enjoy easy depth adjustments, a quick-release magazine, dual LED light, and a belt hook for maximum efficiency. The 2Ah battery drives 800 nails, recharging in just 60 minutes. Plus, get a bonus of 1000 pieces of 18 GA 1-9/16" brad nails and 500 pieces of 18 GA 1-1/4" staples to enhance your work!
THE DO'S AND DON'TS OF STAPLE GUNS
DO TAKE SAFETY PRECAUTIONS
Protect yourself. Wear eye and ear protection. Use clamps, not hands, to hold materials. Never walk with your finger on the trigger.
DON'T POINT AT PEOPLE OR PETS
Keep the gun pointed downward and away from you.
DO UNDERSTAND YOUR TOOL'S TRIGGER FEATURE
Know how your gun operates. Avoid getting your hand between the muzzle and work surface.
DON'T USE INDOOR STAPLES FOR OUTDOOR JOBS
Choose corrosion-resistant staples for outdoor projects.
DO KEEP YOUR STAPLE GUN CLEAN
Wipe it down with oil per the manufacturer's instructions. Avoid excess oil buildup to prevent dirt accumulation.
Remember these do's and don'ts when using staple guns to ensure safety and efficiency in your projects. Happy stapling!